Illustration from Icons8
75% of executives have stated the importance of mentorship in their professional growth, according to a study by the Association for Talent Development.
At MentorCruise, we fiercely advocate the importance of mentorship in personal and professional development. Many mentees have attested to the importance of mentorship in setting their goals.
But how is mentorship exactly important for mentees, mentors and the wider community of support that it operates in? In this article, you'll find out:
How professionals and entrepreneurs can achieve their goals through the help of mentors
How people can become better leaders through mentorship
The importance of mentorship in creating meaningful bonds
How can professionals and entrepreneurs achieve their goals through mentorships?
Whether this is changing your career to tech or launching your first startup, both are hard choices to make. There aren't any guides online that can help you achieve your specific career goals.
This is when the importance of mentorship comes in. After choosing the right mentor with good qualities based on your needs, this mentor can diagnose your problem and come up with a suitable action plan to help you succeed. How? Here are some concrete ways:
Mentors can teach mentees how to move up the ranks
Let's face it: having the right skills and experience is not enough to climb up the career ladder. Within a corporate context, you need to work with colleagues, learn when to give your ideas and, for better or worse, make friends with the right people who can help you get where you want.
Almost everyone who is in corporate will have to face social politics, and learning how to navigate through it can be frankly tough and disorienting. And mentors who are in more senior positions than you only know this all too well.
Mentors can give you actionable insights on how to deal with situations like this and how to collaborate well with your colleagues by sharing their experiences with you. Mentors can also help you prioritize what kind of skills you should hone to advance faster in your career, based on your circumstances.
At the same time, mentors also have a wider perspective on industry mechanics. Therefore, they can be helpful when you're in a choice of whether to leave your current company to move upwards in another or to stay.
Mentors can help new entrepreneurs succeed in their businesses
As an entrepreneur, the struggle is constant. Ben Horowitz, cofounder and general partner at the venture capital firm Andreessen Horowitz, needed mentors to advise him on running Loudcloud as a first-time founder, including the many product and marketing initiatives he'd led for the first time.
If you're an entrepreneur, more often than not, you're also in the same boat and have to start things you have no expertise on.
Mentors, who are founders themselves and other professionals who have built things from the ground up, can offer important perspectives to help entrepreneurs succeed. From Oprah to Steve Jobs, very successful people today have had the important guidance of mentors to help them navigate through incredibly complex situations and thrive.
Mentors can help teams succeed
Starting a team mentoring program can benefit not only the employee-mentees, as in a traditional mentorship relationship, but also the whole company by helping collaboratively create more effective processes.
Team-based mentorship initiatives can also foster a sense of community and support. As the relationships happen between individuals and collaborative teams, each employee involved will have their concerns and goals addressed to be more effective.
At the same time, new hires will have an easier time integrating when there is an individual mentor or a network to help them learn the expectations of the job. Mentors can identify gaps in skills and address them early on to prevent future problems.
Mentors can help mentees go beyond their limits through an action plan
Choose a mentor who will push your limits. Ask for feedback. Tell them your concerns. Most of the time, this mentor will help you devise an action plan to succeed and provide important insights based on lived experiences.
Mentors can act as a big confidence boost for mentees who are struggling to get their business off the ground or to advance in their careers. At the same time, mentees can inspire mentors with their fortitude and know-to scrappiness that have helped them thrive.
Mentorships are crucial for succession plans
Within a corporate structure, who gets into the leadership team largely depends on executive referrals. In a mentoring relationship, this referral can come from a mentor who knows about their mentee's capabilities and is willing to vouch for them in promotions and leadership positions.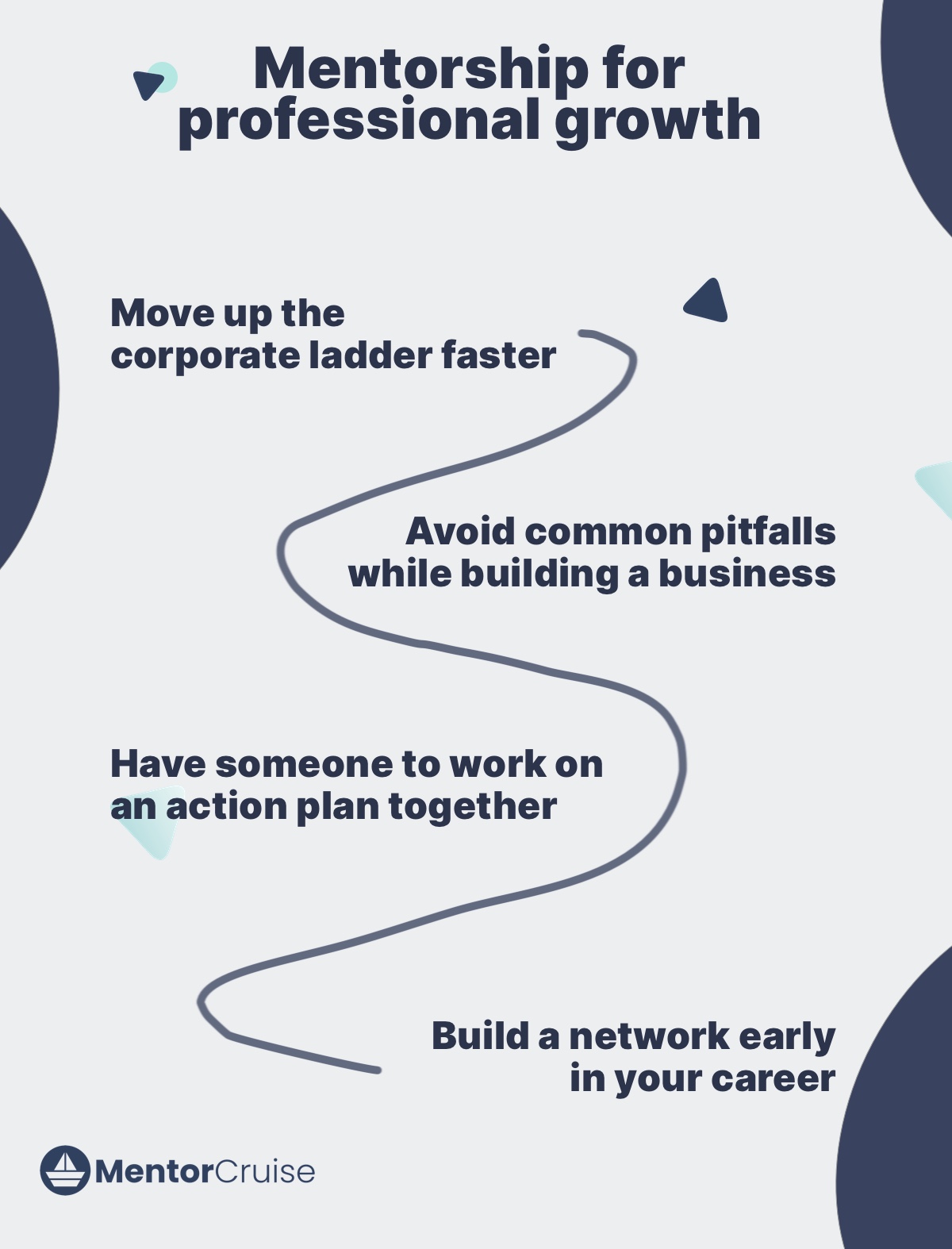 The importance of mentorship for mentors in becoming more effective leaders
The importance of mentorship also extends to the mentors. Mentorships are symbiotic relationships that can be fulfilling to both mentors and mentees. For mentees, they can learn from the mentors' wisdom and lived experience. Mentors can better understand their craft by teaching it and expand their network to their mentees and fellow mentors, too.
People should be mentors to help a hand in contributing to this vision of the future and inspire how the new generation thinks. After all, mentees can be future leaders, entrepreneurs of to-be successful businesses and corporate executives.
Mentors can help inspire meaningful change.
Mentors can instill their vision of the future to the mentees and create long-lasting systemic changes. This means developing connections with aspiring young entrepreneurs who need mentorship.
While the mentee might be needing some advice from the mentor, in the future, the mentee may bring back the favor to the mentor in other ways, such as business partnerships and introducing them to people they want to meet.
Mentors can become better leaders
By listening to mentees and their concerns and goals for the future, mentors can develop empathy and understanding required to lead those who might think differently from them.
In real terms, these mentees may be operating within a new niche or vertical. Learning how they work can provide important insights to mentors on their importance when this might not have been clear from the onset.
For example, marketing seniors might find it beneficial to mentor search engine marketers on how to navigate through the marketing industry, as a whole. At the same time, the mentors can learn a thing or two about how search engine optimization is radically changing the way many companies today do marketing.
Within an organization, mentors can help employees increase productivity
Mentees work better when they know what's expected of them. Mentoring employees is not just beneficial for the mentees. By having more effective processes, mentors and executives can go about their marketing plans more effectively.
At the same time, when mentees know what's expected of them and which projects they need to take the lead on, there is a lot less back and forths and organizational red tape.
Effective mentorships can help increase overall company productivity and allow it to function more efficiently than before. As the mentor lays down the higher-level vision to the mentee, the latter will better understand their role and their importance within the company.
The importance of mentorship for professional socialization
Ultimately, effective mentorships help foster incredibly tight personal and professional bonds between mentors and mentees, deeper understanding, and better collaboration.
Mentorships can create strong relationships
Mentorships help build a connection between mentors and mentees who share common goals. While the mentee learns from the mentor's wisdom, this can be an intentional investment on the mentor's part to get something in the future in return, be it a strong network connection or business partnerships in the future.
"Mentor relationships must be tended to and are constantly evolving," Brett Caine, CEO of Urban Airship, says. "Those experiences and discussions culminate in a stronger bond to navigate more complex life or business discussions in the future."
Moreover, mentorships are two-way relationships that also help mentors get back in touch with the experiences and obstacles that they might have also faced to be where they are. Through this, the mentor can remind themselves of the amount of effort that it took for them to get where they were. Mentees, on the other hand, will be able to figure out how to surmount their problems with this knowledge transfer. A mentoring relationship is ultimately an exercise in empathy.
Mentorships create systems and networks of change
Mentorships can help both mentors and mentees create tight professional networks and systems of change that can lead to lasting impact. For today's entrepreneurs, this is very important.
For example, more and more people are getting into online businesses because of a lively community of people that are making a living out of selling their offerings online. And many of these aspiring mentees have searched on MentorCruise for guidance on how to start an online business. These mentorships are helping provide an ecosystem where a new breed of professionals and entrepreneurs who are location independent and can fully work online.
Either way, mentors can help you get unstuck by diagnosing your problems and helping you create an action plan to overcome them.
Want to find the right mentor for you? Join MentorCruise.
There you have it. Mentorships are important for everyone involved. Mentees can learn practical tips on how to achieve their goals. Teams can become more effective. Mentors can become better leaders. And mentorships overall can foster stronger community bonds,
Want to look for your ideal mentor? On MentorCruise, we offer mentorships in over 450 skills, across many different industries, and for many different backgrounds. Throughout the many mentorships organized on this platform, many mentees were right on the verge of giving up on a certain problem or growing a business, until they had an effective mentor for their needs.
Check out this testimonial from a mentee, who was about to give up, until they found the right mentor for them. These mentors have provided mentees real actionable career advice and the confidence boost to help mentees just push through hard times to get closer to their goals.