Here's where resume help services come into play, turning your job aspirations into a tangible reality, allowing you to showcase your skills and potential.
When it comes to crafting a resume on your own, you might find yourself facing uncertainties as industries are constantly evolving. Fortunately, this is where MentorCruise excels. In this article, we will dive into the world of resume assistance services, explore the criteria for evaluating such services, and unveil the top options currently available in the market.
What is a resume help service?
Resume writing services encompass various forms of assistance, such as editing, rewriting, and formatting, to enhance your job application. Utilizing these services can be beneficial throughout your career, mainly depending on your goals, industry, and experience level. They help streamline and polish your resume, ensuring it aligns with your career aspirations.
If you're seeking to enhance your resume, MentorCruise is a helpful gateway to get you started. Our platform and community unite professionals with exceptional mentors and coaches specific to your needs. With our dedicated team, we can provide a seamless experience for resume assistance, job application enhancement, mentorship, and expert career guidance.
Why should you use resume help services?
Expert advice and feedback: A resume writing service provides valuable advice and feedback to improve your resume for the industry you're applying for, avoiding mistakes and highlighting accomplishments.
Keyword expertise: Professional resume writers excel in using important keywords throughout your resume to catch the attention of employers and recruiters.
In-line with trends: Experienced resume writers stay updated with current trends in employment culture, ensuring your resume aligns with industry values and showcases the most important skills.
Develop your professional profile: A resume is just one part of your professional presence. A qualified resume writer can help optimize your LinkedIn profile and other platforms to provide more insight into your value as a candidate.
Save time and energy: Hiring a resume writing service saves you time and energy by handling the research, writing, editing, and tailoring of your resume for different positions and industries. This way, you can focus more time on sharpening your skills. 
Criteria to consider when choosing resume help services
Credentials: Certified professional resume writers understand the industry and tailor their approach to meet employer expectations. They not only design exceptional CVs but are also equipped to familiarize clients with industry norms and trends.
Accreditation: Checking if an online service is an accredited member of the Better Business Bureau helps ensure working with a reputable firm and provides an insurance policy for online business.
Testimonials: Looking beyond testimonials and checking reviews on platforms like Yelp or Google provides more insight into a resume writer's reputation. Speaking to previous clients is also a useful option.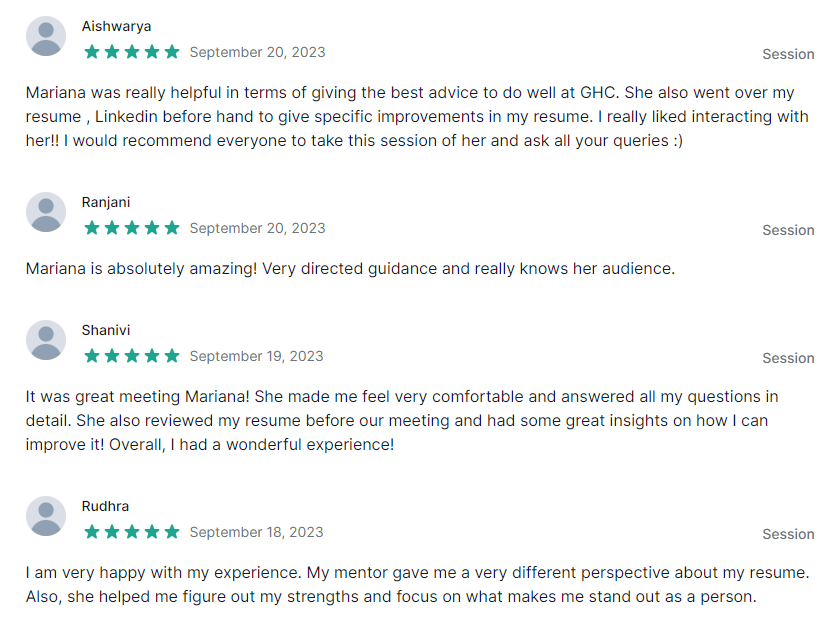 Budget: Affordability is important, so setting a budget beforehand and finding a service within that price range is recommended. Avoid companies that charge "per page" since concise resumes are more effective.
Terms: Before signing up to a service, carefully read the contract to understand exactly what you will be provided with. Ensure that the executive resume writing services are worth the price being charged.
Best resume help services
1. MentorCruise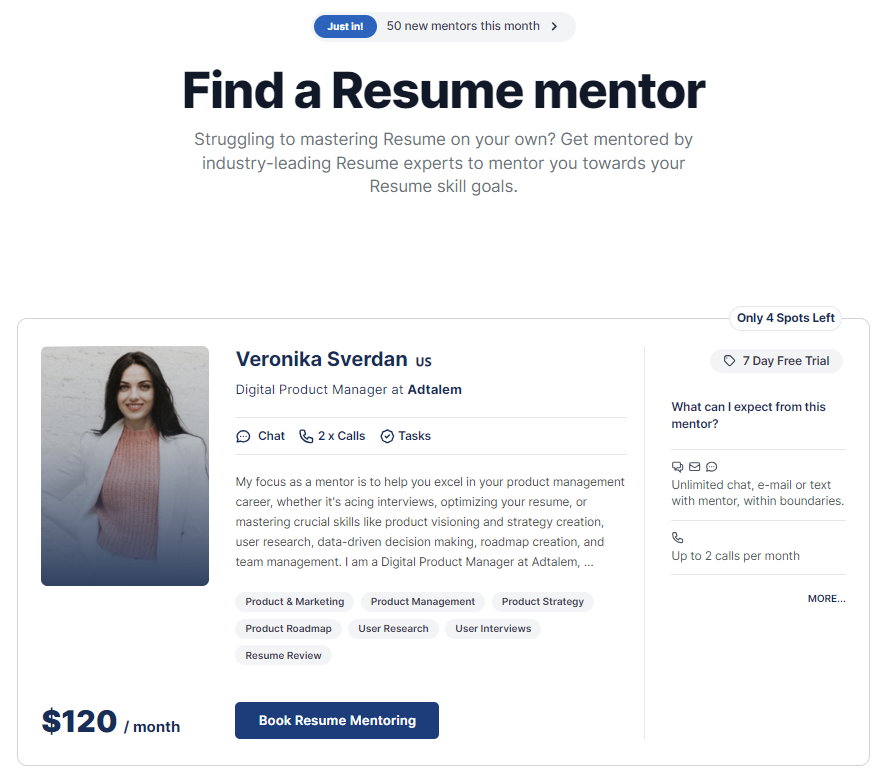 MentorCruise is an online platform that connects individuals seeking professional development with experienced mentors in various industries. It has a dedicated segment for resume assistance, where individuals receive personalized guidance to enhance their resumes.
Services Offered
Resume assistance: Mentorship in crafting a tailored, professional resume. Includes feedback on design and content, as well as advice on aligning the resume with specific industry requirements.
LinkedIn profile optimization: Tips and guidance on optimizing LinkedIn profiles to enhance professional visibility.
Job interview preparation: Support and advice on preparing for job interviews to increase chances of success.
Pricing
MentorCruise operates on a subscription model, with fees charged monthly. The cost varies depending on the mentor selected, as each mentor sets their own rate. 
Pricing typically ranges between $50 to $200 per month. This fee includes regular one-on-one sessions and direct access to the mentor for any ongoing queries or support.
Pros and Cons
Pros
Provides a user-friendly platform for easy navigation and setup
Positive experiences with mentors 
Offers mentors from various fields, specializing in users' specific areas of interest or expertise
Cons
You need to be quite specific about the guidance you need
2. TopResume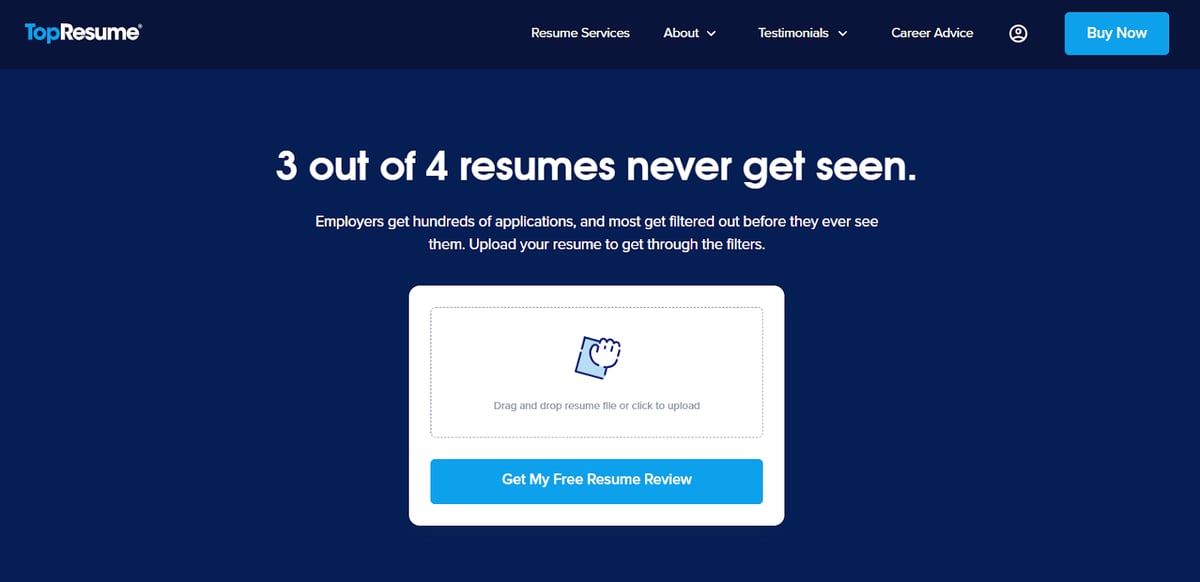 TopResume is a professional resume writing service that leverages real expert writers to help job seekers showcase their skills and experience effectively.
Services Offered
Professional resume writing: Tailored resumes and cover letters designed to pass through applicant tracking systems and impress recruiters.
LinkedIn profile writing: Optimization of profiles to attract networking opportunities and job offers.
Career assessment: Personalized reports providing insight into job market visibility.
Pricing
With packages starting from $149, pricing varies based on the level of service chosen.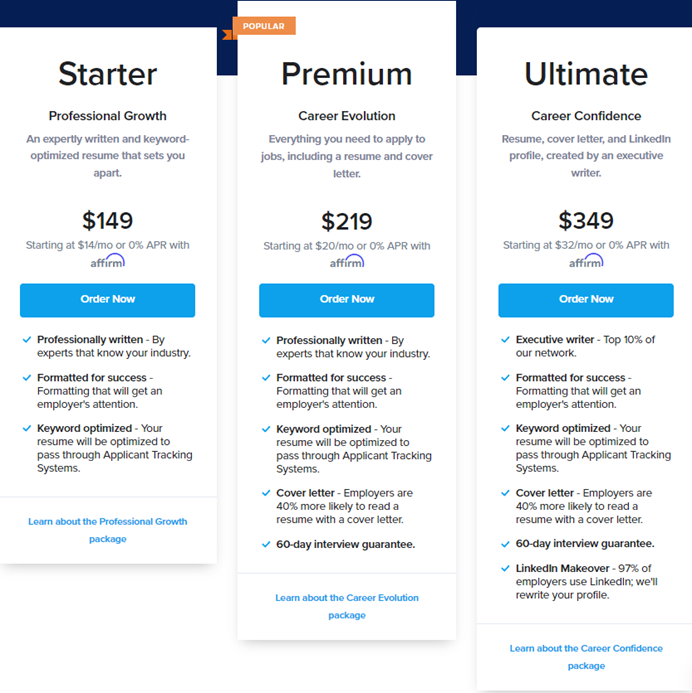 Pros and Cons
Pros
Provides ATS-friendly resumes
Keyword optimization
Offers free resume review
Cons
Refunds are not always guaranteed
Multiple complaints about poor customer service
3. The Muse
The Muse is an online career platform offering a multitude of services including resume reviews by seasoned career coaches.
Services Offered
Resume review: Detailed analysis and feedback by career experts.
Resume editing: The Muse offers a service to help you revise your resume for when you are shifting industries. 
Career coaching: Personalized guidance from a coach to help steer your career path.
Pricing
The resume review service pricing starts at $139, which includes one round of edits.

Pros and Cons
Pros
Provides constructive, personalized feedback
Career coaching
Offers a wide range of career resources
Cons
More expensive compared to other services
Limited services in the basic package
4. ZipJob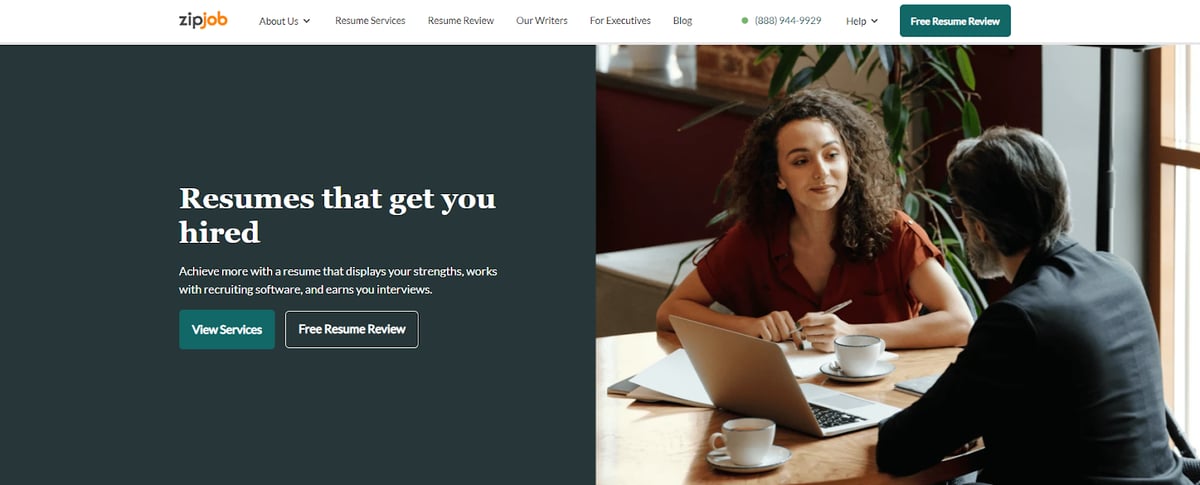 ZipJob is a professional resume writing service that provides certified writers to increase the chances of landing job interviews.
Services Offered
Resume writing: Offers rewrite or edit of your resume with keyword optimization.
Cover letter writing: Request a professional cover letter tailored to the specific role and organization you want to apply to.  
LinkedIn profile makeover: Enhances your professional web presence on LinkedIn.
Pricing
ZipJob offers three paid pricing plans starting from $139, up to premium services priced at $299.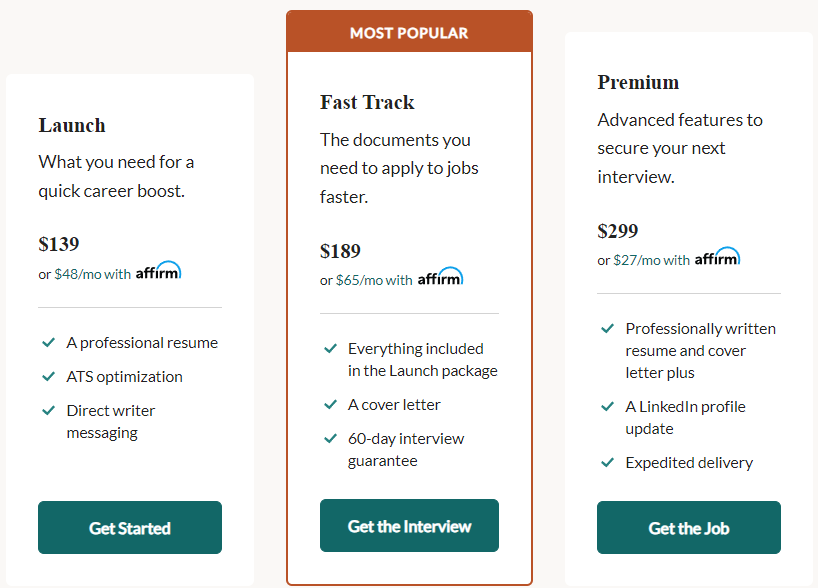 Pros and Cons
Pros
Uses ATS technology for resume optimization
Can communicate directly with your writer
Provides a 60-day interview guarantee
Cons
Higher price point for advanced services
Some complaints about turnaround time
5. ResumeWriters 

ResumeWriters is a dedicated service focused on crafting professional resumes tailored to individual career goals and industries.
Services Offered
Customized resumes: Tailor-made resumes showcasing your skills and achievements.
Cover letter crafting: Professional cover letter writing and LinkedIn profile development to complement your resume.
3-day turnaround: From the time you submit career history, your draft will be sent via email within 72 hours. 
Pricing
ResumeWriters offers 8 pricing plans based on your needs. The popular Professional resume writing plan is priced at $199.95.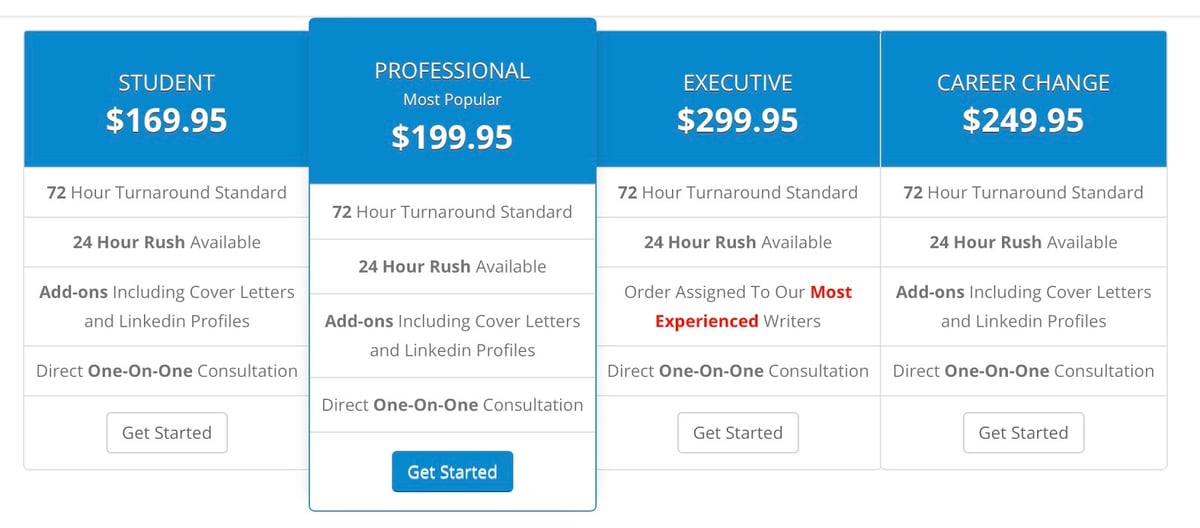 Pros and Cons
Pros
Industry-specific resume writers
24-hour turnaround time available
Direct communication with writers
Cons
Higher pricing compared to other services
No clear refund policy
6. Let's Eat, Grandma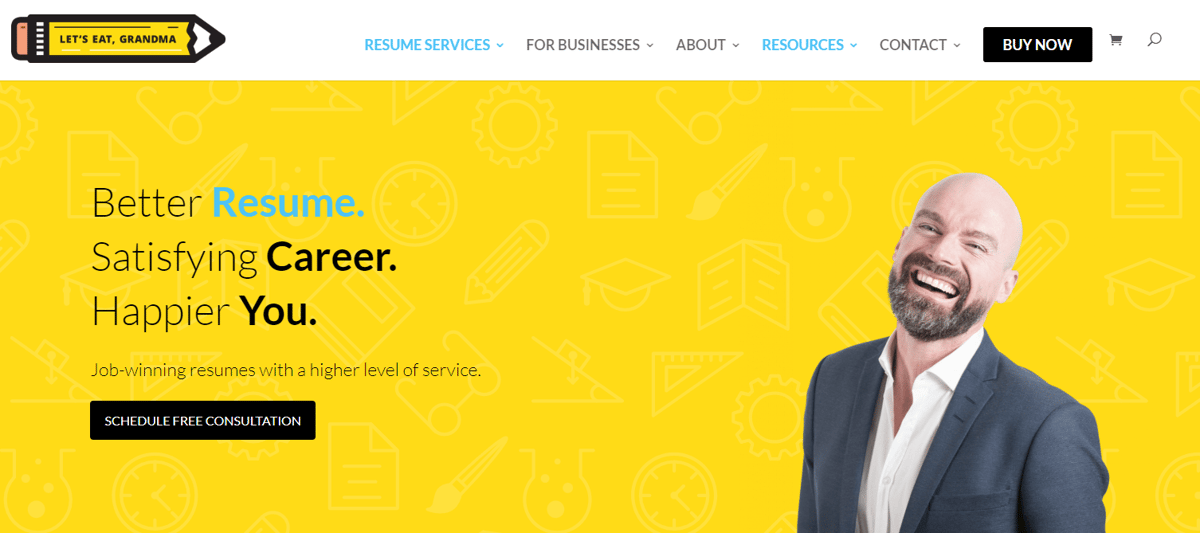 Let's Eat, Grandma is a resume service committed to improving your application documents and job search strategy.
Services Offered
Resume and cover letter writing: Professional, tailored resumes and cover letters.
Personalized consultations: Writers offer phone consultations for more personalized collaboration.
Career coaching: Personalized guidance to enhance job search strategy.
Pricing
Services start at $439, varying based on complexity and level of service.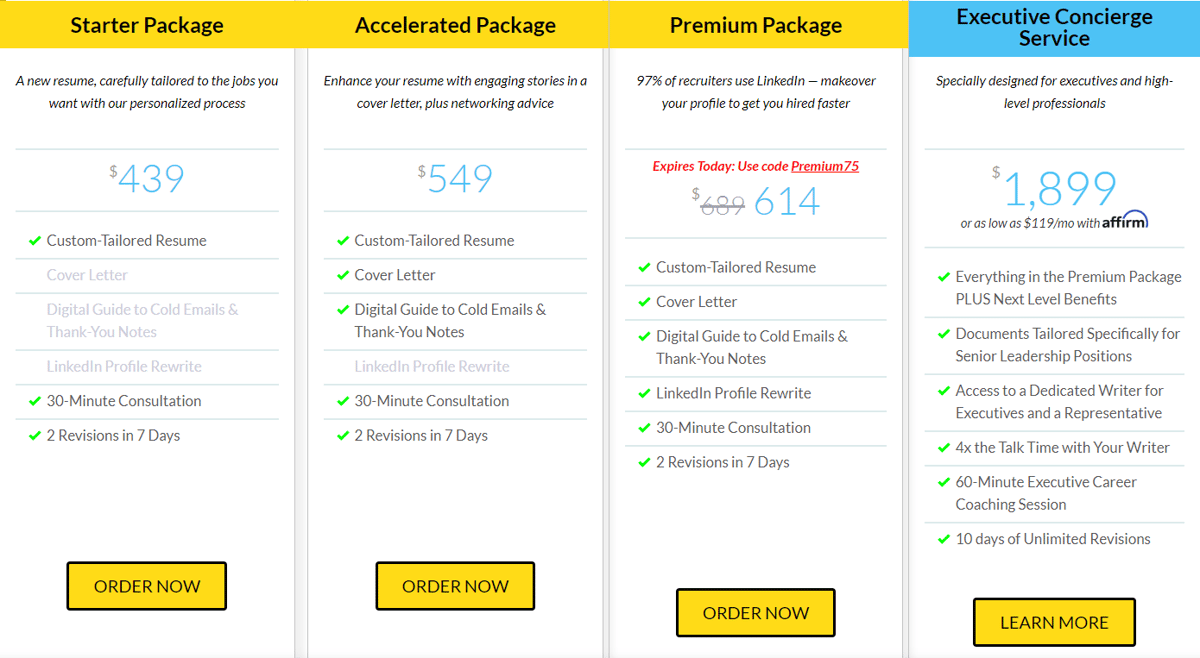 Pros and Cons
Pros
Comprehensive job application services
Personalized approach to each client
One free resume critique to get started
Cons
Pricing can be steep for higher-level services
Limited information about writers' qualifications
7. ResumeGo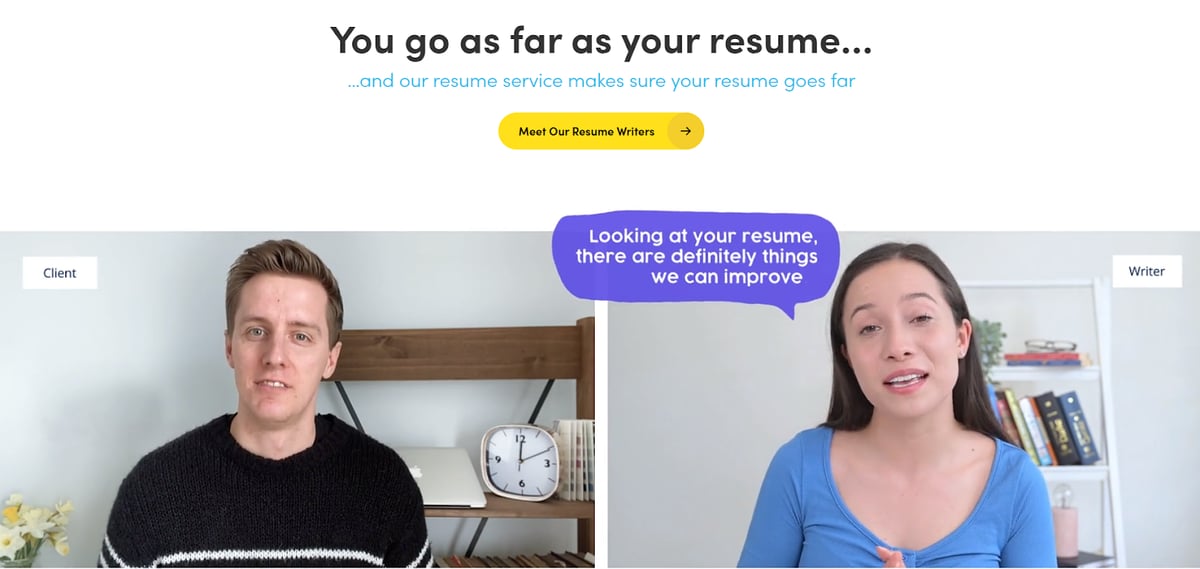 ResumeGo is a professional resume-writing service with a data-driven approach to job application preparation.
Services Offered
Resume writing: Certified writers craft engaging resumes tailored to specific job markets.
LinkedIn profile makeover: Enhances online professional presence.
Career coaching: Offers career advice and guidance.
Pricing
ResumeGo offers three resume writing packages; Premium priced at $290 , Professional priced at $360, and Executive priced at $600.
Pros and Cons
Pros
ATS-friendly resumes
Free LinkedIn profile enhancement in Professional plan
Certified professional resume writers
Cons
Pricing may be high for some individuals
No interview guarantee
8. ResumeSpice
ResumeSpice is a top-rated professional resume writing and career coaching service, founded by recruiters.
Services Offered
Resume and cover letter writing: Customized, job-winning resumes and cover letters.
LinkedIn profile development: Enhances online visibility for your LinkedIn profile.
Career Coaching: Experts provide career advancement tips for your desired industry.
Pricing
ResumeSpice offers three paid pricing plans starting at $479 for entry-level resumes.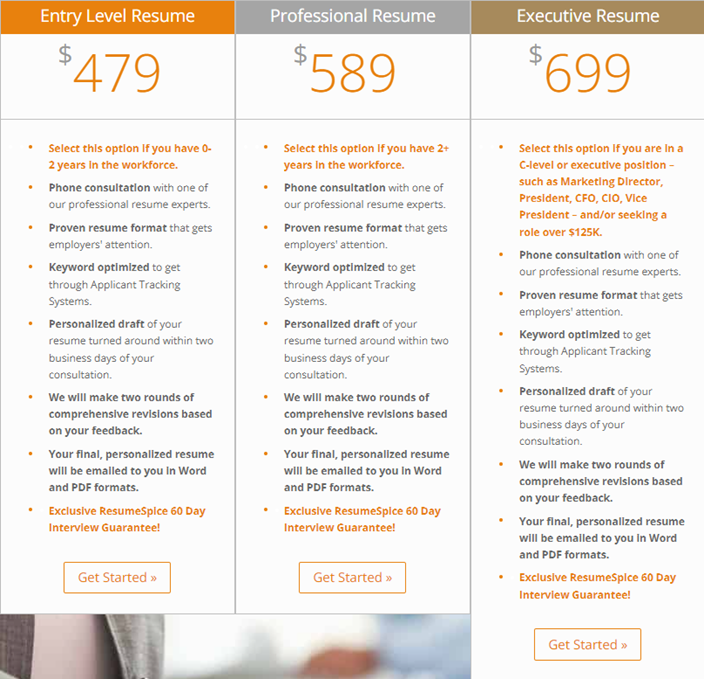 Pros and Cons
Pros
Expert writers with recruiting backgrounds
60-day interview guarantee
Personalized one-on-one consultation
Cons
Higher pricing compared to competition
No services are priced individually
9. Resume Writer Direct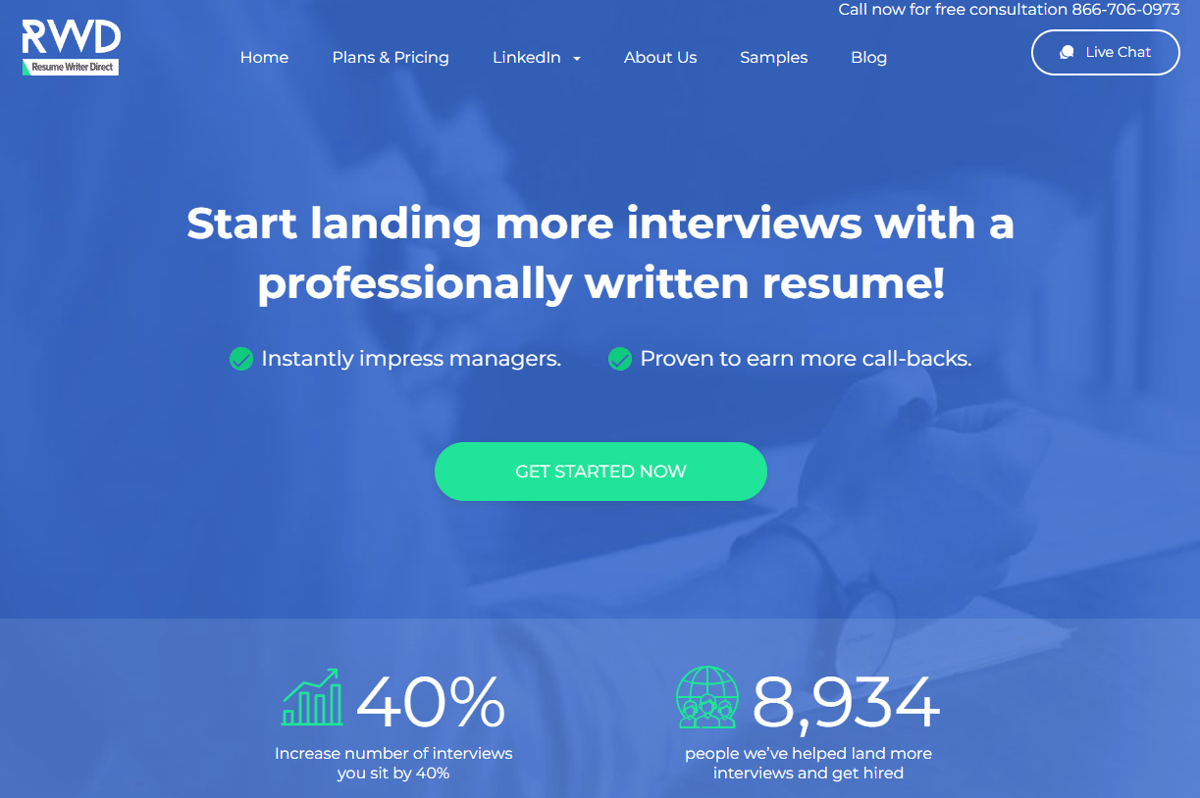 Resume Writer Direct is a professional resume-writing service that offers personalized, industry-specific resume creation and revision services.
Services Offered
Resume writing and editing: Tailored resumes for various industries.
LinkedIn profile writing: Professional online presence enhancement.
Cover letter writing: Customized cover letters for job applications.
Pricing
Resume Writer Direct offers three pricing packages starting from $139 for a basic resume.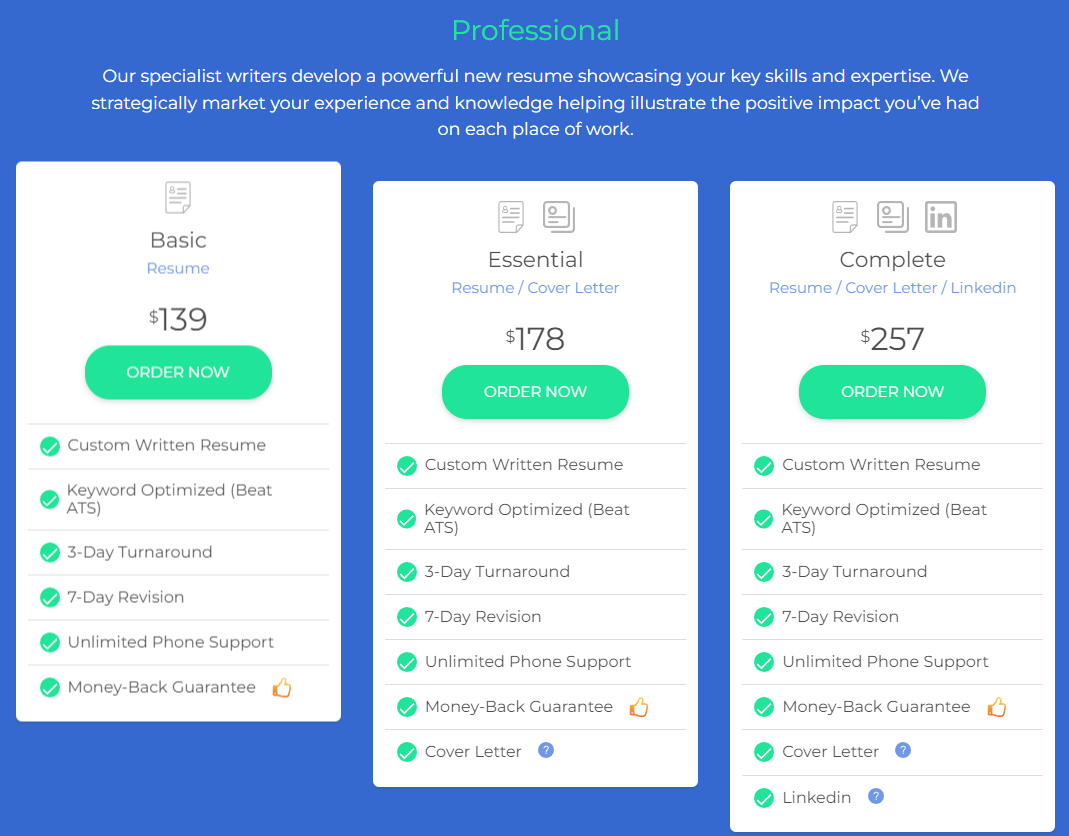 Pros and Cons
Pros
Personalized service
3-day turnaround
Industry-specific expertise
Cons
Limited customer reviews are available
10. Resumeble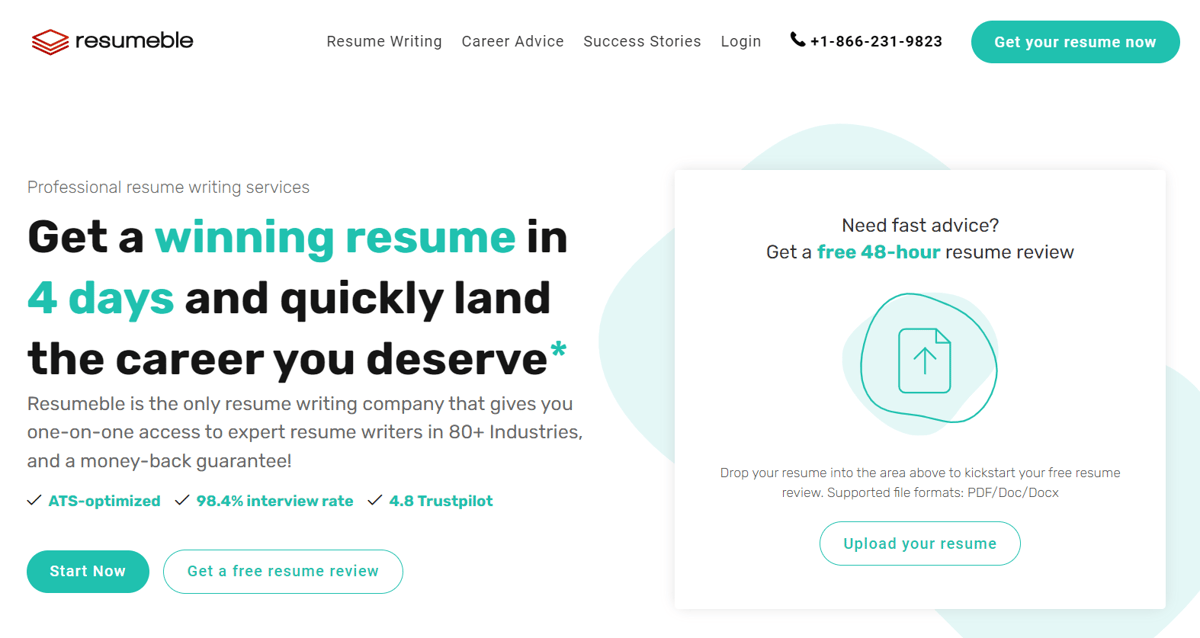 Resumable is a professional resume and CV writing service with an expert team of writers from various industries.
Services Offered
Professional resume and CV writing: Expert resume writing with revisions available to tailor to different industries you may want to apply for. 
Interview manual: All plans include an interview how-to manual to give you personalized guidance on interview best practices.
Unlimited communication: Once you have an assigned writer you'll get unlimited email communication to complete your services. 
Pricing
Resumable offers three pricing packages starting at $159 for a professional resume, cover letter and three free revisions.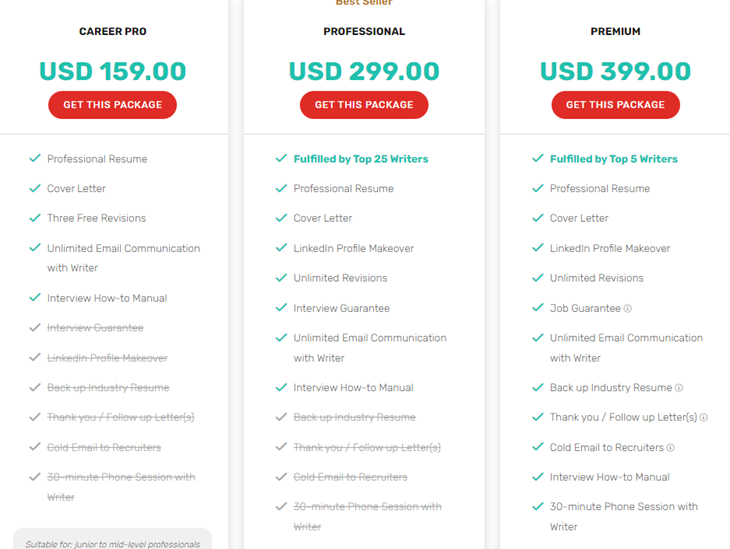 Pros and Cons
Pros
Specialized, industry-specific writers
Interview guidance
High customer ratings on Trustpilot
Cons
High pricing compared to some competitors
Ready to get personalized resume help?
In conclusion, finding the right professional resume writing service depends on your specific needs, budget, and industry. It's crucial to consider the pros and cons of each service, ensuring they align with your expectations and can offer you the best potential outcome.
MentorCruise is here to effortlessly craft your resume with just a click. With our resume writing service, you can expect top-notch quality at an affordable price, ensuring you stand out in the competitive job market. Feel free to book a session today!