Your career aspirations include career paths you want to follow and what you want to do in the long term professionally. When you're being examined for a new job, whether for a management role or as an intern, employers will seek to determine if the position you're applying for will be a good fit considering your projected career path.
Therefore, when you're preparing for an interview, it is critical to consider how you would respond to this traditional question on future goals and occupational aspirations. Here, we'll explain the logic behind this interview question and present the simple ways you can follow to design your own impactful answer.
In this article, you'll learn the following:
What are your career aspirations?
What are some career aspirations examples?
How to answer questions on career aspiration during an interview.
Sample career aspirations answers that can help you win a job.
Should you include career aspirations on your resume?
How to map out your career aspirations.
What are your career aspirations?
Career aspirations refer to those long-term career goals, plans, and/or dreams that are far away in the future rather than the short-term ones in the present.
Employers often ask about your future career aspirations to get to know you and understand your career goals and occupational aspirations.
Your occupational aspirations get to define your short-term career choices. In the process of your career development, your education and career choices should ideally reflect what you want your career to become in the longer term.
What are some career aspirations examples?
By preparing the answer to the "What are your career aspirations" question, you also get to prioritize your career path. This is an excellent opportunity to reflect on your goals and aspirations if you haven't already. Here are some professional aspirations examples to help you decide, along with answer examples:
Become an industry expert. You might want to pursue academic or technical expertise in your industry and be able to perform specific tasks. For example, you may be a developer and aspire to become a CTO. Your priority is developing in-depth knowledge and competence to follow scientific fields or practical endeavors.

Answer Example: Ever since I finished my studies, I've wanted to become an industry expert. In this position, I hope to increase my technical knowledge while providing solutions and improvements to common industry problems. In the long run, I aspire to contribute significantly to industry development and optimization to create something that would genuinely improve the lives of thousands.

Reach executive positions. Another common aspiration is wanting to elevate in the corporate hierarchy, which means becoming a determinant factor of operations and business. You care about obtaining power and control over a company and becoming instrumental to its overall success. This aspiration demonstrates to the interviewer that you'll be a loyal player and will be sticking around for a long time.

Answer Example: My goal entering the company would be to evolve my skills in a challenging environment, work within a team, and provide efficient solutions. Within 5 years, I aspire to reach a managerial position that will allow me to make crucial decisions while applying my leadership skills. Eventually, by the age of 40, I hope to have reached an executive position so that I can have an active and critical role in the company's overall success.

Create your own business. A typical career ambition example for many people is having their own business, making their own decisions, taking risks, and having the first and final word. Although that's absolutely fine, when asked in an interview, "What are your career aspirations?" it'd be better to reply by mentioning your goals towards an executive or managerial position inside the company. You don't want your interviewer concerned that you might leave the company soon.

Answer Example: My goals with this position are to cultivate my skills and earn unparalleled experience in the field. I aspire to reach managerial and executive positions in the following years.

Earn recognition. Perhaps you desire recognition for your work, like winning an award or a big prize. Much like elevating to an executive position, this demonstrates that you're a highly ambitious, goal-oriented individual with big aspirations.

Answer Example: I have very high expectations of myself, and I am goal-oriented. My ambition with this position would be to earn an industry award while working in an environment that rewards talent and surrounds me with other like-minded individuals. In addition, I love innovation and would be thrilled to work within a professional environment that values my work.
How to answer questions on career aspiration during an interview.
To answer any interview question on career aspiration and career development during an interview, you need to understand exactly what the interviewer is asking.
After all, it's a question that remains popular, including careers in traditional paths, when hiring short-term contract workers, or even when getting interviewed for leadership positions.
What is the interviewer really asking?
Interviewers will often ask about your career aspirations for the following reasons.
To determine your suitability for the job and how feasible your goals align with theirs.
To resolve if you're a good fit, your interviewer could also ask why you desire to work at the organization or why you picked interest in the job.
They want to detect how long you plan on working with their company as well as how devoted you can be to your job.
They further want to determine if the post you are applying for matches or relates to your long term career strategy.
The interviewer doesn't demand that you engage for a lifetime in the organization and eventually get into a leadership position (unless this is what you want); they just don't want you to exhaust resources on your training path to success if you leave after a short while.
How do you answer this interview question?
To be able to provide the answers your interviewer really wants to know, go for the interview loaded with whatever information you can find about the company. Once you have done an in-depth study, you can adequately answer the questions.
Try to be honest, but still strive to unite your interests with the organization's needs. You may want to consider the following to ensure you provide satisfactory answers.
Answer based on the specific requirements in the job descriptions, your relevant past experience, and education.
Before going to an interview, be conscious that the interviewer may ask you questions about your career plans and aspirations related to the job.
Prepare your answer to such questions and or related varieties. Once you re-read the job description, try to see how you can tie some of the job's tasks to any of your career goals and aspirations.
Speak about your strengths that lie within the job skills. This will increase your case before the interviewer.
Reassure the interviewer that you want to grow within the company. Your interviewer definitely wouldn't want to invest the company's time and resources in you if your career goals are to work with them for a short period and then move on. So endeavor to reassure the interviewer how much you'll want to grow within the company.
Tie in the job's functions with your lifelong interests, career goals, and aspirations. It would be best to explain to the interviewer how the job relates to your lifelong interest, career goals, and aspirations and how you plan to commit yourself to it.
Tell personal anecdotes that differentiate you from your competitors. Competition is high in the job market, and there is the possibility that you aren't the lone one seeking this job. So before you go to your interview, pick a peculiar, unique quality that you believe aligns with your potential career path. Tell personal goals relevant to your job. Tell a story about surmounting some of your biggest challenges. Emphasize this aspect to your interviewer, as this might give you an edge over other applicants.
What not to say
Avoid specifics and do not talk about compensation packages. Never inquire about job location, salary, or other specific information during an interview. Remember that you're interviewing for a post and try to keep the conversation solely on the job, except the interviewer tilts it towards something else.
Personal issues. In your job interview, don't talk about personal issues, like family or personal health issues. For instance, avoid things like, "I would love to relocate to the United States, where my doctor lives."
Don't talk about what you want to achieve after this job. Focus on your interest in the job.
Avoiding the answer. Saying something like "I don't know" is not the most professional way to get away with an interview. It shows that you're indecisive about your future and, more importantly, that you don't have a clear understanding of the position you're applying to. It might not always be easy to have an answer, especially when you're in your early professional stages. In those circumstances, it's better to be honest, revealing your short-term intentions, than to not answer at all.
Sample career aspirations answers that can help you win a job.
Speaking about your career aspirations can be challenging, particularly if you're still examining different career choices. In your job interview, remain focused on how you'll profit from the job and vice versa. This is your unique opportunity to show the interviewer how this job will help you accomplish your career goals and aspirations and where you view yourself in the future.
Below are remarkable sample career aspirations answers that may ease your own response.
Example 1. I'm seeking a way to transfer my public relations, writing, event planning skills, and media relations expertise to a position in healthcare tech. I'm intrigued by the bearings in healthcare and hold a family and educational background in medicine. The possibility of working on a product that can help save lives feels very fulfilling to me. Eventually, I have excitement in operating as a communications expert and really influence how people see this amazing industry.
Why would this work? You hold an education, family history, and interest in medicine. You've operated as a communications operator and would like to eventually handle the same task in a hospital. These details reassure the interviewer that you are the perfect fit for the job. It is essential to understand that interviewers are usually interested in where applicants perceive themselves several years from the present, and this response would fit that question. It definitely pays to come from a technical background if you have STEM career aspirations. But if you don't have that, you need to communicate your specialties in other domains, such as communications.
Example 2. I've often loved sales and flourished on the thrill of landing new clients for my company and competing with my rivals. Your position is charming as it would present the opening for me to intensify relationships with prevailing major clients while further pursuing new clients. I desire to remain in sales for the foreseeable tomorrow. My goal will be to emerge as one of the chief account managers in your administrators, referred to as a product specialist with a powerful track record of satisfying clients.
Why would this work? Because you're devoted to sales as a career, the interviewer can recognize that your goals for the future are harmonious with the job.
Example 3. As you can see from my experience, I've spent 3 years after graduate school as a Human Resources generalist in an enterprise-level company. During this period, I did enjoy my commitment to recruiting. I am looking forward to specializing in the employment department with an organization like yours with a more extensive recruitment operation.
Why would this work? Considering that you're recently out of graduate school, you're still starting to map out your career plans and work in human resources.
Should you include career aspirations on your resume?
When crafting your resume, you have the option to include some of your career aspirations, preferably in your short personal description. The information should be concise to avoid tiring the reader. Before jumping on writing your professional aspirations, you should have figured out the following:
What are your career interests
How does this position align with your career aspirations
How can you put that in a few words
For example, suppose you're a marketing intern aspiring to become a marketing manager in the long run. In that case, you could sum up your aspiration like this: "Looking for an exciting opportunity to leverage my skills in the marketing industry and elevate my career to a managerial position in the years to come".
Make it brief and stick to the point. On the other hand, if you're writing a cover letter, you might want to elaborate in a few more lines about your career aspirations to make your point stand out.
How to map out your career aspirations
Providing a timeslot to appreciate your long-term career aspirations alongside the role would equip your interviewers with the key to assess your suitability for the job. You can easily map out your career aspirations in the following top ways, regardless of career stages.
Get mentorship help from experts who have your dream career.
The path to career success is undoubtedly a rough one. Yet picture how much easier it would be if you had an expert management leader accessible anytime to offer professional advice and guidance to fill up your competency gaps.
With a direct one-on-one link to your career mentor, you'll be free to discuss your progress and career ambitions, ask questions, or kick the wheels on a fresh idea.
Do you have an upcoming interview you want to nail? By simply dropping a message to your mentor, you secure better chances of performing exceptionally at the interview.
Limitless messaging to your career mentor means you can ask them anything, and they'll answer as soon as they can.
Your mentor can fix challenges and goals to keep you inspired throughout the week and fulfill your long-term career ambitions. And by steadily building the bar with each task, your mentor will help you advance personally and professionally.
Whether you're a fresh college graduate or in upper management, at whatever career stages, mentorship helps you have clarity on what to do next.
The 70-20-10 model for learning and development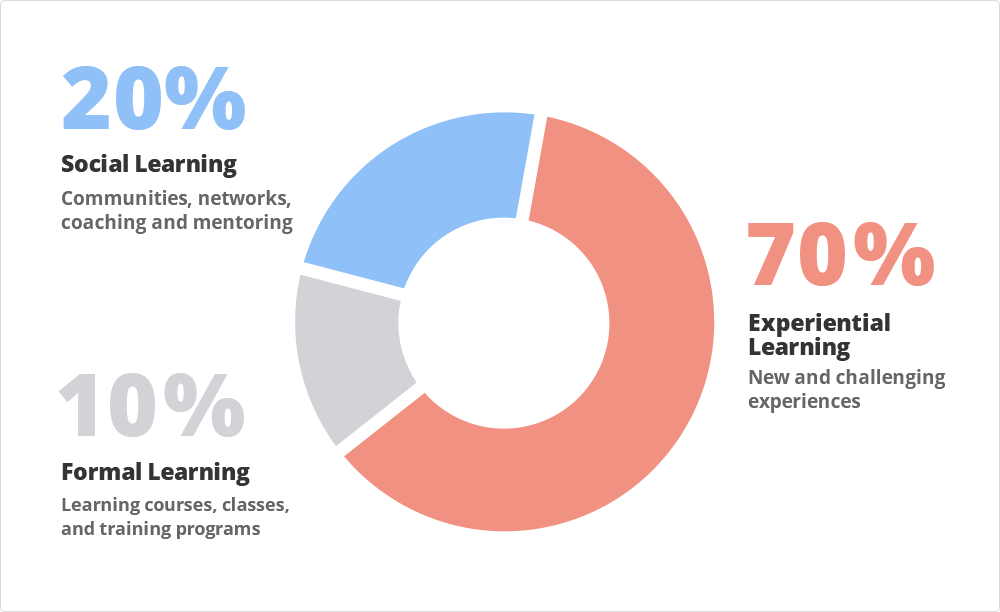 The 70-20-10 model is a popular learning and development model that states that a whopping 70 percent of learning occurs via experience, 20% from interactions with friends and colleagues, with 10% coming from formal training experiences.
The model is a regularly used formula in the training field to define the optimal sources of learning by thriving managers and to supplement competency gaps by even the most experienced employees.
It is thought to be of the highest value as a comprehensive guideline for companies trying to maximize the effectiveness of their learning and development programs.
The model's authors maintain that
The 70 percent hands-on experience is the most profitable for employees since it permits them to explore and sharpen their job-related skills, address challenges, make decisions, and interact with prominent personalities like bosses and mentors in the work settings.
Employees gain 20 percent of knowledge from others through a range of activities including, mentoring, people development skills, collaborative learning, and different methods of interacting with peers.
The code holds that merely 10 percent of professional development comes from formal courseware instruction, university, and various educational experiences.
Motivation and feedback are the top benefits of this important learning approach.
The 70-20-10 model is a recipe for career success and to widen your career opportunities. Understanding the 70-20-10 model is crucial to attaining your goals and career aspirations as it explains how you build your skills and knowledge.
Efficient learning comes down to blending formal and informal learning in just the right proportions. Informal learning (70 percent for experiential learning and 20% for social learning) and informal learning, which is based on theories and facts, constitute 10%.
A better perception of how learning occurs will empower learning and development, thus building a high-performance learning culture. Therefore with the 70-20-10 model at your disposal, be sure to easily attain your learning goals and thus career aspirations.
Base your aspirations out of your interests, your current expertise, and what people pay you for.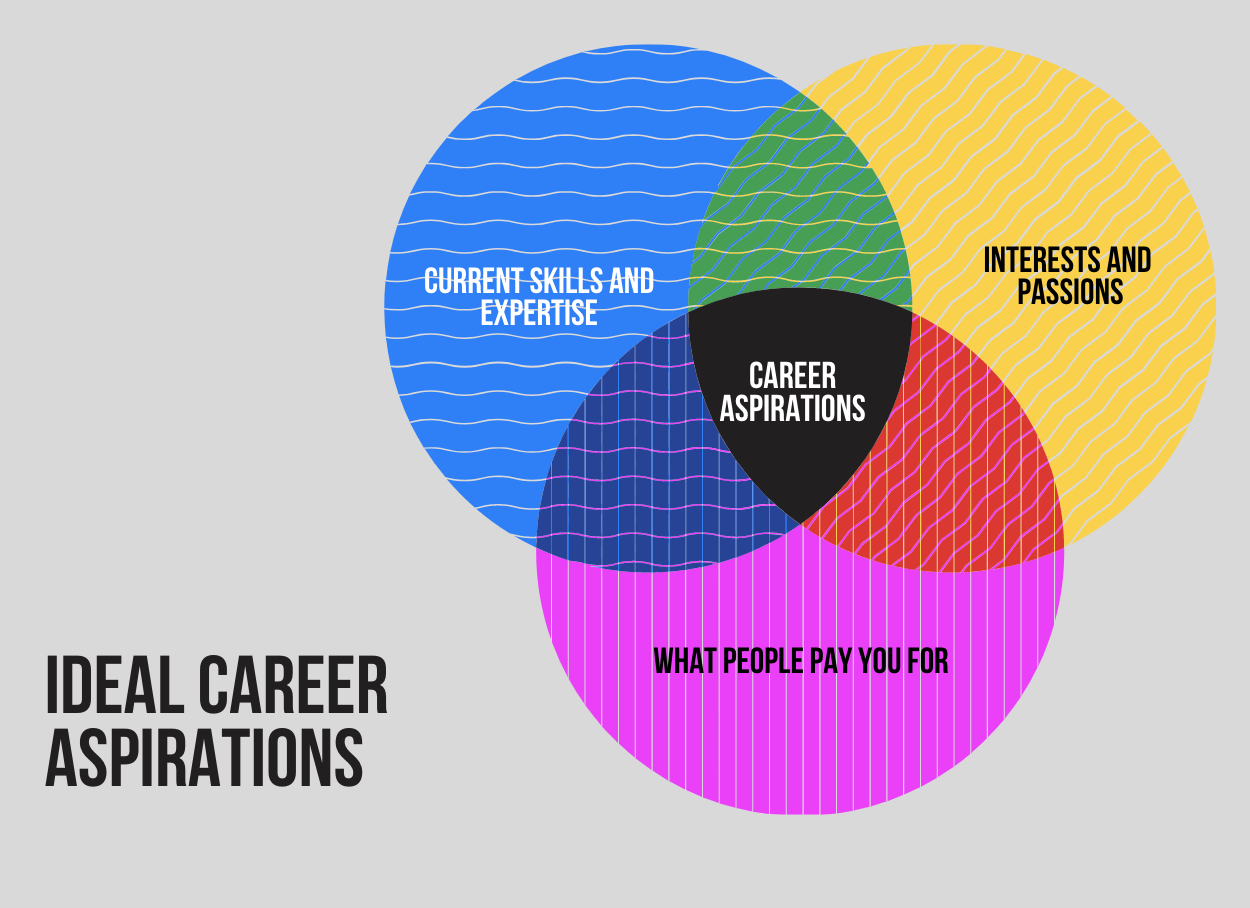 Career aspirations can be affected by factors that are pretty important to you.
People realize their career aspirations based on their abilities, interest, ideal lifestyle, personal values, and other factors. Therefore, take your interests and values, as well as what people pay you for, into account when brainstorming opinions for your answer to questions on your career goals and aspirations.
This Venn diagram allows you to effectively map out that perfect intersection and find the dream jobs that accommodate your wants and skills. A high-paying career is great. But a high-paying career that you love is even better. If your career ambitions detract from common career aspirations, then you can effectively specialize yourself in a way that can be very lucrative.
Your career aspirations checklist
Figuring out your career aspirations before answering questions about them is essential. Otherwise, you'll be memorizing career aspirations sample answers for eternity. This involves personal reflection and taking into consideration what career you'd be excited to work on every day. So here are some questions you can ask yourself to reach a safe conclusion: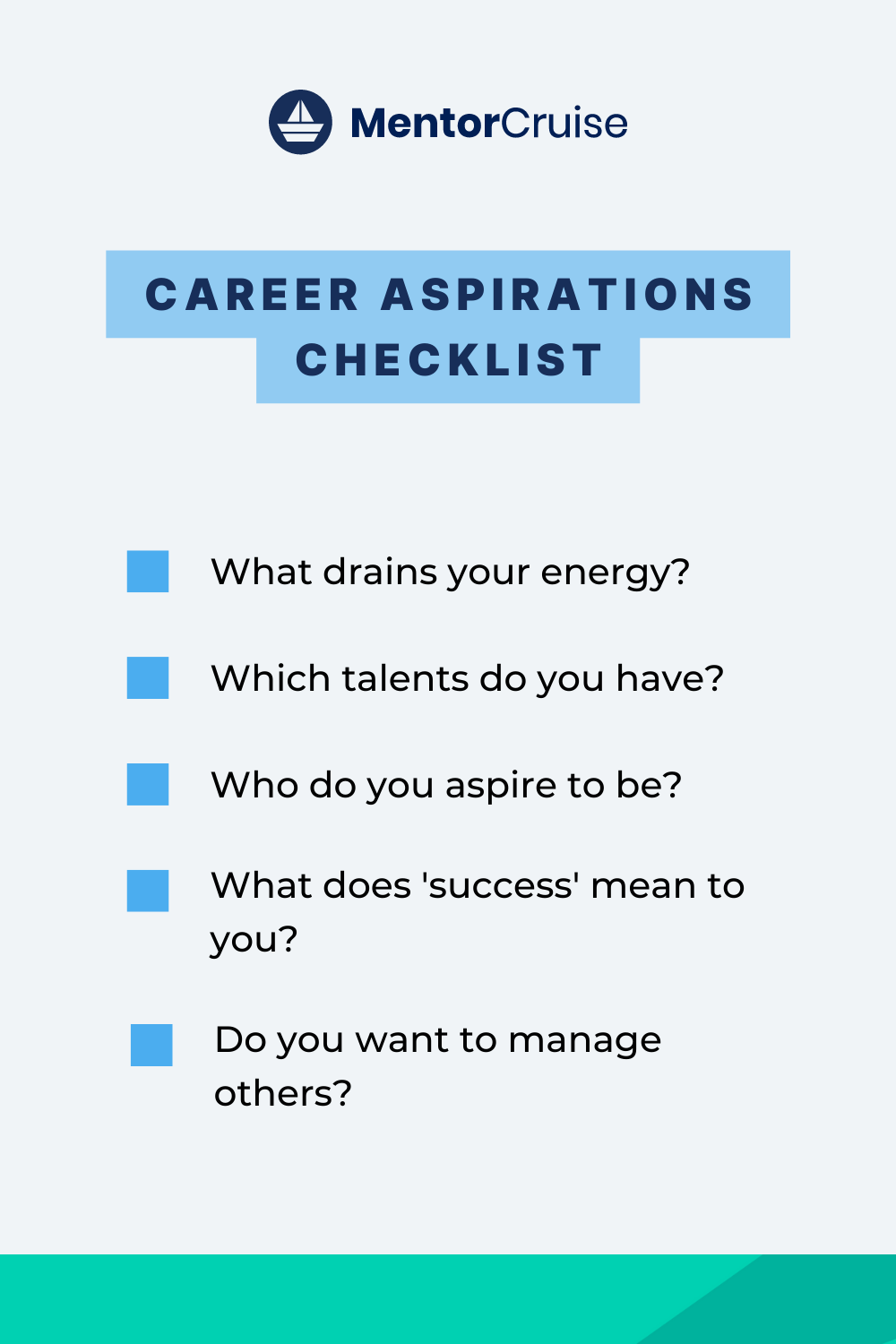 What tasks sustain or drain your energy?
What tasks make you lose track of time?
What are you talented at?
Who do you want to help?
How can you contribute to providing solutions to people's problems?
In what industry could you be excelling?
Do you like team collaborations or solo work?
Do you have someone you aspire to be?
Does managing people seem appealing to you?
What would be considered a success to you?
What would make your professional life fulfilling? Is it money, recognition, power, learning new things, being innovative, helping others?
Once you answer these questions, think about what companies and job positions combine most of your preferences. For example, if you enjoy interacting with people every day, a manager or a role in customer service might be a good fit for you. On the other hand, if you enjoy working solo and making your own decisions, a freelancing job might be what you're looking for. Finally, if you enjoy helping people, a role in public health or a non-profit organization could offer you a sense of doing what you love.
Whatever excites, energizes, and fulfills you should be part of your career, as you'll be spending most of your life working. So prioritize what feels most important to you, and start building your professional life from there.
Define your career aspirations with MentorCruise
Discoursing your career goals and aspirations can be overwhelming, especially if you're first starting out or still experimenting with diverse career options. However, finding a mentor or interview coach can help lead the way.
They wouldn't only take the pressure off your neck but also shorten the learning curve. You'll get firsthand knowledge of great resources, advice, tricks, and explore ways to generate viable goals that can make an impact on the career path you've chosen.
Define your dream jobs, your long-term career goals, and the career stages necessary to achieve your ambitions. During interviews, the career aspiration question is to ensure that the career path you currently are in is the one you want.
Do you desire to drive your career aspirations and goals into tremendous success over just a few years? Professional guidance is the fastest way to propel your career to the next level. Professional guidance is at the heart of our career goals at MentorCruise. We aren't only interested in meeting your career expectations but surpassing them. At MentorCruise, we thrive when you succeed.