My career journey has ranged from different startups in B2B Technology SaaS to Fortune 500 companies. I'm a continuous learner for life, a student for life and blessed with my education to be where I am today.
It all started with one step at a time, one path going forward and community has been a big part of helping me find myself and also discover who I really am.
As part of my journey, I have three core values - inspire, influence and impact.
Inspire is all about building that trust and credibility with your team members as well as with the community.
Influence is about extreme ownership, owning the good the bad and the ugly.
Impact is not just about the results. It's about the relationships that you're building as you navigate through your career.
Product Marketing → Leadership
As a product marketer I get the question: What is product marketing? In simple terms, it's helping companies and teams define messaging and positioning for the product, how to launch a product to market, how to think about your target audience (aka buyer persona) and keep a pulse on the market and competitive intelligence.
As part of my product marketing experience, I also got a chance to be a leader: from leading teams at Dell Boomi and Lenovo SSG and I'm always grateful for that. Leadership is a privilege - to bring the best in each other. It helped me focus on what truly matters - people and relationships.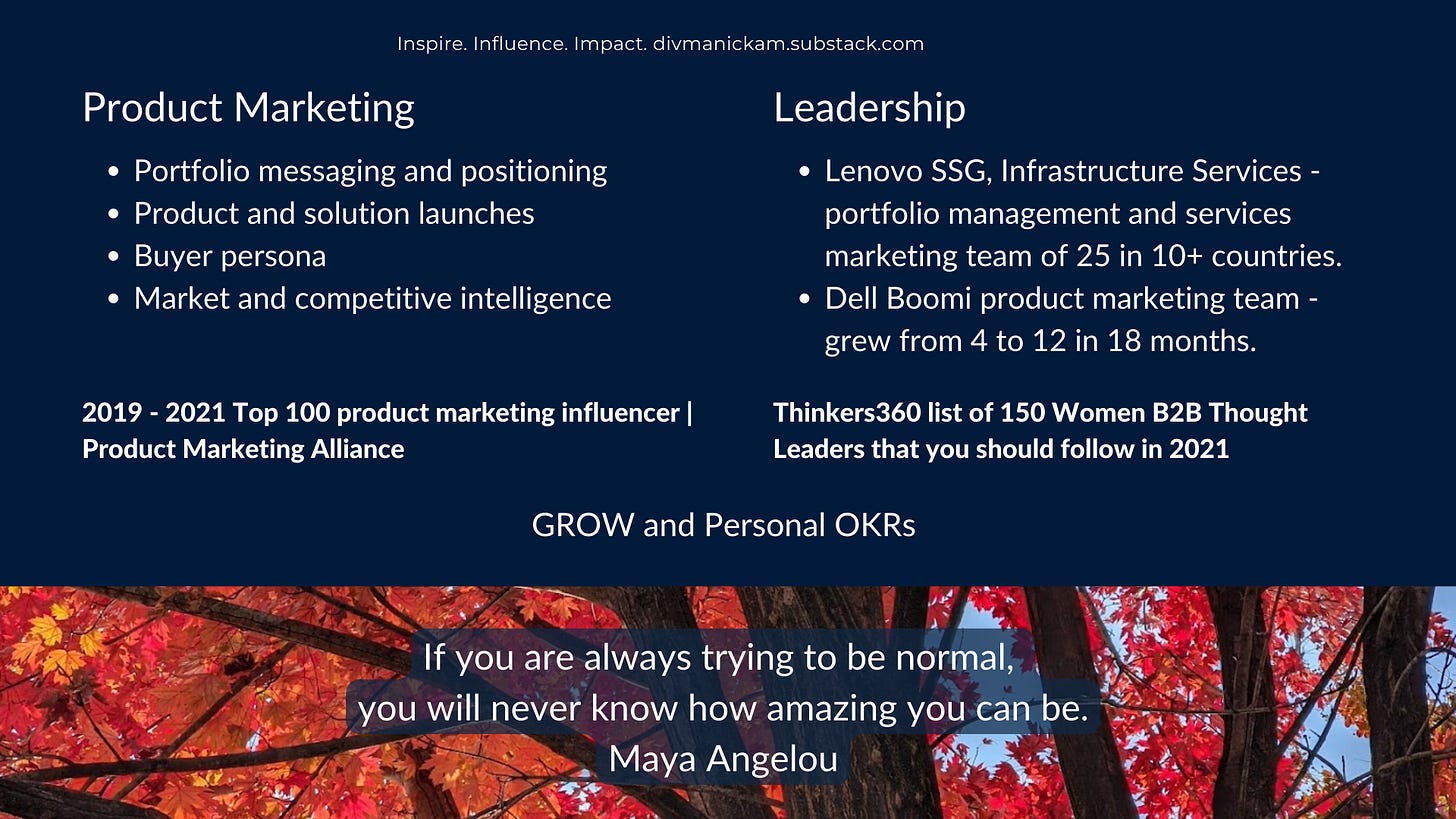 As a mentor, I have two focus areas:
Authentic Leadership
For first-time leaders to mid level or senior leaders
Team Growth
Hiring/Interview
Onboarding
Cross-functional Team Collaboration
Stakeholder Alignment
Career Growth
For early to mid level to senior professionals
GROW and Personal OKRs
Resume Best Practices
Mock Interviews and Interview Prep
SOP - Statement of Purpose for higher education (Masters | PhD)
Picture Perfect Introduction
In the past few years, what's top of mind for me are stress and anxiety, mindfulness and essentialism, diversity and belonging. Taking a leap into the unknown, I have self-published books on my journey.
If you are an aspiring early to mid level professional navigating the job search market and looking to be your best, I am here to share my best practices from resume to interviews to onboarding and career path ahead.
If you are a first-time leader looking to learn the skills and create your team with a strong foundation of trust and crediblity, I am here to share the good, the bad and the ugly in the road to authentic leadership.
About me, Div Manickam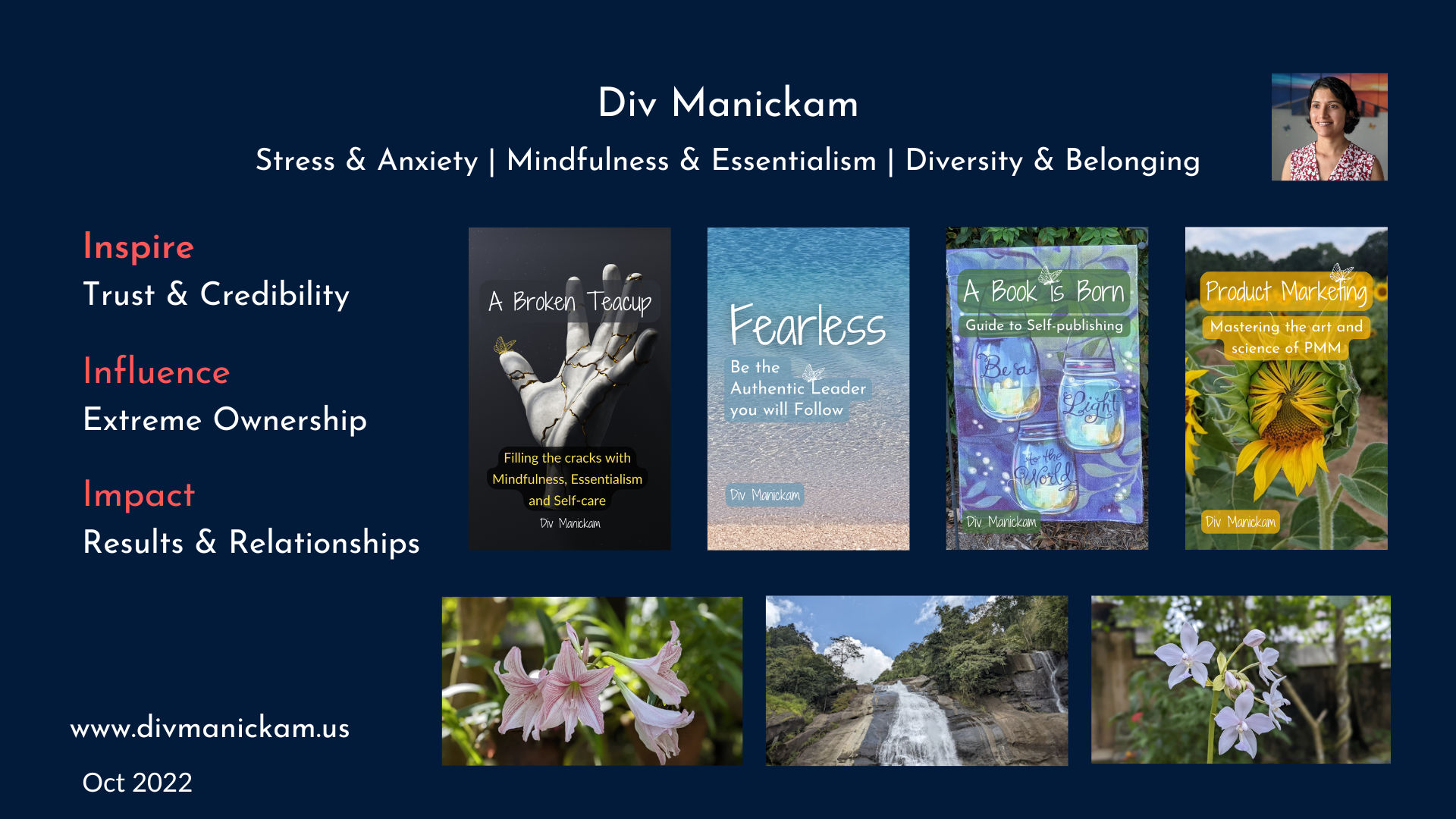 A mindful soul and a believer in simplicity.Like an alchemist, I love the magic of bringing two worlds together. 
From frameworks to mentoring, I enjoy sharing experiences on authentic leadership, career growth, mindfulness, mental wellbeing and product marketing.
Career and Life Reflections
Time is your biggest wealth - Think about where you're spending your time and are you spending time on what really matters. Money comes and goes, time only moves forward. Make every second count.

Do what you love - If you've heard the concept of ikigai: it's finding what that meaningful work is where it's not work for you but something that you are truly passionate about. For me that is mentoring. I exist in this world (aka my purpose) to help and serve mindful folks to be their best selves and always be true and authentic to themselves. You can create a facade outside to meet society norms, but you cannot fool yourself for too long.

Define success on your own terms - You don't have to have everything figured out now. Find things that bring joy and make you feel alive. Talk to people in different careers to learn about the good and the bad. So, you'll know what to really expect when you pursue that career path.

Give back to the community - Contribute to the common good. It's always the best thing that you can do.

Always know that the universe has your back. Karma: when you think of it, do good and good happens to you is very true.

Gratitude is the most powerful thing, that we can do for each other and for ourselves. It's definitely a lost art - thank you. So, I extend a heartfelt gratitude to all my teachers from the past to today and in the future who continue to shape who I am and who I will be.

The best shortcut is to work hard. Practice every day on things that matter to you and you'll finally see the compound interest in what ever you do. A simple example: I wanted to share my travel photos and started to post in Google Maps as a Local Guide in 2016 and today it is a habit that I continue whereever I go. And recently crossed 200 million views in 5years. That's the best example of compound interest I have in life.

Always ask the question: what's the worst thing that can happen? We had some fun today talking about this and actually had one of the students come up on stage. Step back and observe your feelings because it's important to pay attention to them. We are our own worst critic. Trust me: the worst things never happen and always be prepared for whatever may come. It's life!

Aim for 100 rejections - experience is what we make of it. When we apply for college or the first job, be ready for those one hundred rejections. That way you won't feel as bad when you get those first few. Always ask why that happened and don't let yourself down, because there's always a path forward.

Don't obsess over what people think - I realized that when we stop comparing to others, this is the happiest that we can be. Practice essentialism and be your authentic self always.
+