At MentorCruise, a mentorship platform, we have a thriving community of startup founders, growth specialists and other types of professionals who know what it takes to take an early-stage company or a side project to the next level. We've had many business and entrepreneurship mentors who have helped startup founders surmount difficult growth pains.
But, exactly, how can a startup mentor help you achieve your business goals? In this article, you'll learn about:
The link between top-performing startups and mentorships
What to look for in a great startup mentor
The kinds of startup mentors that you need
The different ways a startup mentor can help you succeed
Why are startup mentors important for growing your early-stage company?
For the sake of simplicity, let's call mentors with the right wisdom, vision and expertise to help early-stage companies as startup mentors. These mentors help entrepreneurs successfully grow their early-stage companies.
According to a study conducted by Endeavor, a nonprofit that supports high-impact entrepreneurs across the world, many founders of top-performing tech startups in New York had strong mentoring relationships with leaders of other successful companies.
For example, Etsy's Chad Dickerson and Nat Turner of Flatiron health have been respectively mentored by Flickr's Caterina Fake and AppNexus's Brian O'Kelley.
As the chart below illustrates, 33% of mentored founders went on to lead highly successful startups themselves. This is over 3 times better than the performance of other New York tech companies.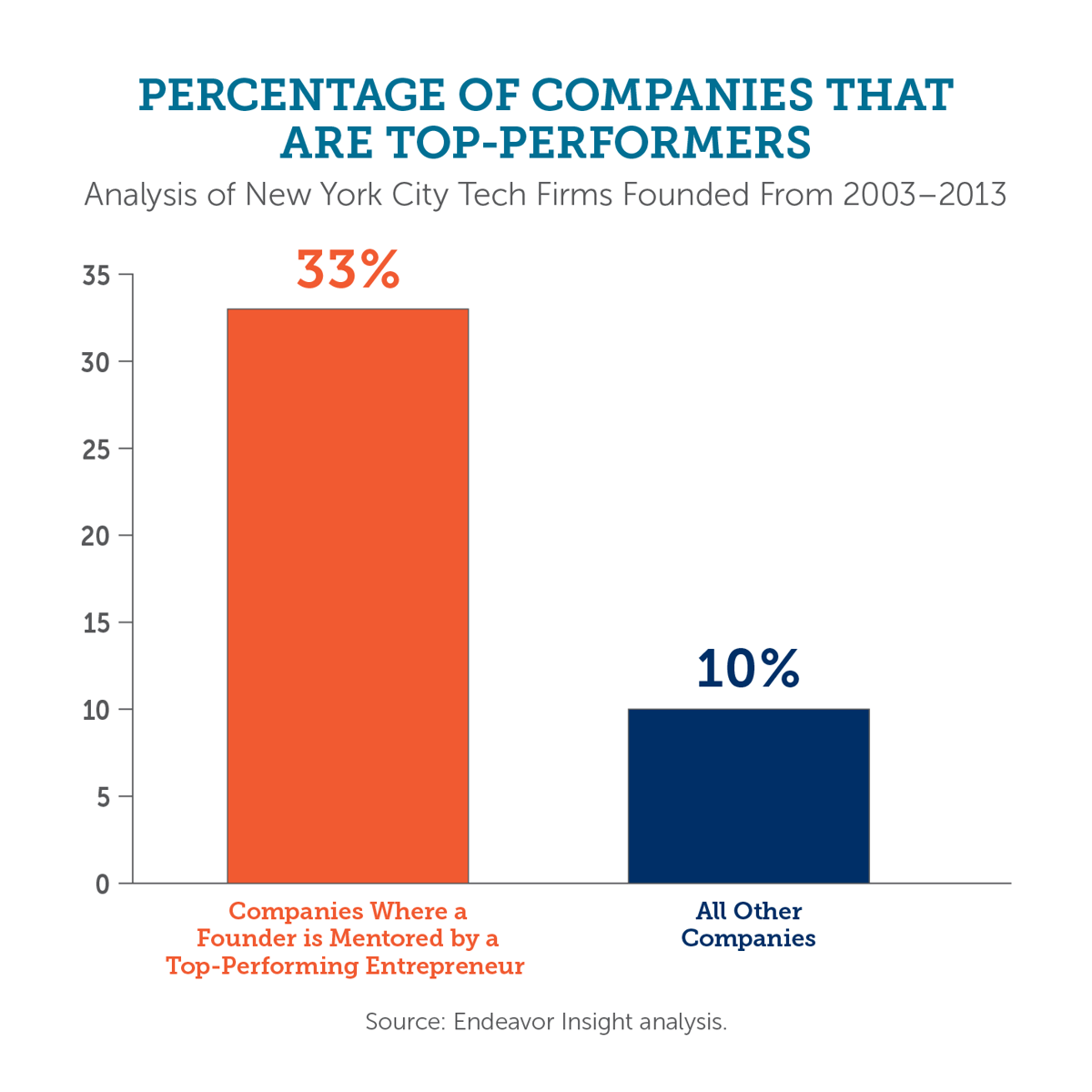 You can also see this pattern of startup mentor relationships among today's most successful leaders. Mark Zuckerberg of Facebook had Apple's Steve Jobs. Microsoft's Bill Gates had the mentorship of the highly-acclaimed investor, Warren Buffet. Harry Potter had Dumbledore. Luke Skywalker had Yoda. You get the point. Startup mentors have been pivotal to the growth of today's largest companies.
Qualities of a good startup mentor
That said, looking for good startup mentors to grow your company can be tricky. Here are three things to keep in mind when looking for the right startup mentor:
You need mentors who have experience in expanding processes to the next level. This is non-negotiable. For example, you have excellent corporate types whose talents lie in mobilizing resources, but not acquiring them. You have content managers who can produce great content but not grow a readership beyond the starting number when they got hired. These are not your startup mentors. You need people who have experience in initiating processes and successfully growing them.

There are different kinds of startup mentors for specific problems. One startup mentor may help you on some technical bits, but they might not have the vision required for your company to grow, and vice-versa. We'll look into this in a bit. No startup mentor that can help you solve all your problems. You need a mentor with the right kind of wisdom, experience and skill to guide you on a specific issue your startup is facing.

Finally, you need to develop a strong mentoring relationship with someone who can care about your success. Otherwise, the startup mentor might get tired of having to help you.
What kind of startup mentor do you need?
Let's cut to the chase, there are essentially four different types of mentors that you need to help you in growing your startup.
The veteran: The veteran is the quintessential mentor. They have experience growing a company in your industry and deep wisdom and insider knowledge to help you achieve your goals. If you're looking for a veteran, you want leaders who have experienced and surmounted growth pains similar to yours.

The specialist: They teach you things that you are less familiar with. For example, if SEO is proving to be a significant growth channel for you, then you might want to get an SEO startup mentor to advise you on your SEO processes, from actual strategy to content creation to hiring.

The peer: This startup mentor may be a fellow entrepreneur who is helping you succeed in your day-to-day activities and in devising growth strategies. This startup mentoring relationship is often fluid. Mentors and mentees can take turns in assuming either role. Peer startup mentors also make great accountability partners, as they encourage you to hit growth goals you've set out to achieve.

The operator: This startup mentor can help you scale your processes up, especially when you're having a hard time doing so. They help you with the ins and outs behind hiring, building teams, and fostering a sense of collaboration.
Not all types of startup mentors are the same. If you want startup mentors for any of your needs, you can browse on MentorCruise to see who's a good fit for your needs.
Mentoring success - ways startup mentors can assist you
A mentorship can develop into a meaningful and long-lasting relationship
Every mentoring success is predicated on a great relationship between mentor and mentee.
Launching a company is an incredibly isolating experience. Your startup mentor can help you solve a specific growth pain, succeed, and encourage you to go further.
They can be important companions, especially at points when you're just about to give up because you're at a loss on what to do next. Having a startup mentor pushes you to grow your early-stage company in ways that you might not have expected.
Expanding your professional network
A startup mentor can help you develop the right interpersonal skills that can be extremely useful if you need to interact a lot with your clients. They can also lead you to the right groups and help you get the right opportunities for further growth.
But, more importantly, mentoring relationships should be truly beneficial. Mentors and mentees can introduce each other to their own professional networks. They can offer each other business opportunities that might not have been possible without this relationship.
Help you get through growth pains
Most of the time, startup founders get mentors to help tackle a certain issue. This may be not knowing which path to take in order to grow in terms of revenue, or they might not know how to scale their processes up.
Whatever growth pain you're experiencing as a startup founder, finding the right type of mentor can help you achieve solutions to all sorts of problems.
However, there's a caveat to this: you already need to know what you want for your startup mentor to effectively be able to help you. If you've done this well, the startup mentor's guidance can help bring clarity to previously confusing situations.
Get external advice paired with insider knowledge
As a result of their industry experience and connections, startup mentors often offer invaluable advice that can be quite insightful (depending on how right the fit is). This external look can help you have a clearer view of what's working in your processes and the other way around.
Your startup mentor can also reveal other important types of information that you wouldn't have known just by observing your processes. Startup mentors can help founders manage and grow their company more efficiently through a series of concrete actions.
Find willing mentors for your startup
Want to find an amazing startup mentor to help you through specific issues? Whether it's a veteran, a specialist, a peer or an operator, on MentorCruise, you can find mentors that will help get your startup or side project where it needs to be.