In my 10+ years of career journey, three principles define me. The first is continuous learning: which started from my bachelor's and master's in Technology to my MBA in Marketing, but my learning didn't stop there. I am a lifelong learner and a student for life. Winning Together has been key when I look at my teams, and my experiences in corporations from fortune F500 companies to startups.
And the third is Community: it has always grounded me. It has helped me find answers that I didn't know much about. And I'm grateful to be able to give back to the community here with Reading Room as well.
My career journey has ranged from different startups in B2B Technology SaaS to Fortune 500 companies. I'm a continuous learner for life, a student for life and blessed with my education to be where I am today.
It all started with one step at a time, one path going forward and community has been a big part of helping me find myself and also discover who I really am.
Throughout my career, I've had the opportunity to be part of product marketing teams, working on messaging and positioning, product launches, buyer persona, and market intelligence.
And in this experience, I also had a chance to take on leadership roles leading teams of 25 folks in 10+ countries at Lenovo and growing a team 3x at Dell Boomi.
Now let's dive in and talk about Resume and CV Best practices. The first is what is the difference between a CV or a Resume?
I thought there wasn't any difference but until I recently realized a CV in Latin means course of life. In contrast Resume in French is a summary. Both are tailored to help you find that specific job, and it's to position you as the best candidate.
A resume is a brief summary of skills, and experience in 1-2 pages

CV is much more detailed and definitely beyond 2 pages
Key Elements in a Resume
There are five key elements to include: the first is your contact. Keep it to the minimum information as necessary. Your name, location, email, address and phone number. Next, include a summary, relevant experience, education and skills. That's what a resume is. It's an overview of your qualification, experience, skills, education, and accomplishments.
Now, if you a fresher and you're trying to figure out how to write a resume, and thinking: I don't have much experience.
Start with a clear summary. And next look at your educational achievements - including coursework and any related projects. And then add volunteer experiences and internships. Mostly, freshers will have a functional resume focused on skills.
And for a professional resume, here are a few tips:
Keep it simple with a font.

Keep it focused - Your resume is not a list of everything you have done. It's supposed to tell a few things and why they should hire

Apply a visual design.
Always review and edit your resume with a friend/family/mentor. Just because you have spent so much time on it, you might miss out on a few things and we'll talk about some of the worst mistakes you can make.
There's a website called jobscan.com, which I found beneficial for my teams and for my mentees. It compares a resume to the job description through an ATS system (Applicant tracking system), which is where a Resume goes before it gets picked up by a hiring manager if it matches the right keywords.
Worst Resume Mistakes
So what are the Worst resume mistakes you could make?
Typos and grammatical errors. There's nothing more putting off than finding a resume where someone's not taking the time to make sure the resume is representing you well.

If there are examples, and they are generic and looks like you only know the job, but not necessarily what you achieved.

Don't try to have a one size fits all resume. It needs to be tailored.

Your duties versus accomplishments.

If there is no clear summary, it's hard to know what you're looking for and your vision for the future.

If there are no action words - verbs that show vs tell, your resume may fall flat.
So what are action words in a resume? If you have used the words that are on the left-hand side - in charge of, hard worker, go-getter. Think about words like directed, accomplished, and achieved. It makes it more actionable and it gives the person reading a better sense of what you can do.
zety.com has a lot of power words for you to use with examples.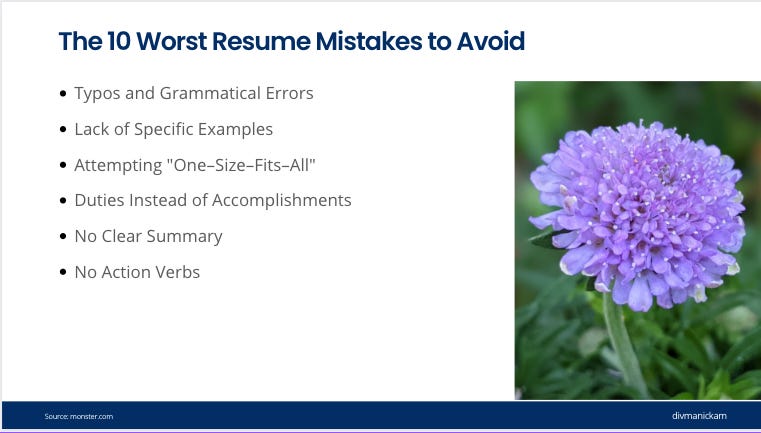 Where to get started
In summary, here are 3 areas to focus on in your next resume refresh:
Create a summary of how you can help the company you are applying your strengths and value.

Have a clean format and style. A few tips - 12pt font, one-inch margin, sections, and 1.5 line spacing can give the hiring manager a good first impression. White space matters.

Metrics and Results help showcase your accomplishments vs job duties and responsibilities that may seem like from the job description.
LinkedIn
And once your resume is ready. The next stop is your LinkedIn profile. Your online presence matters.
Here are some things to consider - update the following sections: Summary, About, Featured, Experience, Education, Skills, and Recommendations.
And don't forget to create a custom URL to share with the world.
www.linkedin.com/in/divmanickam






All the best in your future endeavors.
References:


About Div Manickam
A mindful soul and a believer in simplicity. Like an alchemist, I love the magic of bringing two worlds together.
From frameworks to mentoring, I enjoy sharing experiences on authentic leadership, career growth, mindfulness, mental well-being and product marketing.