Build a

more effective

team through mentorship.
It's no secret that mentorship improves retention, satisfaction and skill in the workplace. We're matching your team with affordable battle-tested mentors to get you there efficiently.
Trusted by innovative companies of all sizes
Don't waste time on ineffective, expensive and boring employee training
Build leadership and confidence qualities
Faciliate technical training
Gain outside perspective
Get assistance with people management
Retain knowledge, improve your retention and invest in your team's effectiveness, turning your contributors into leaders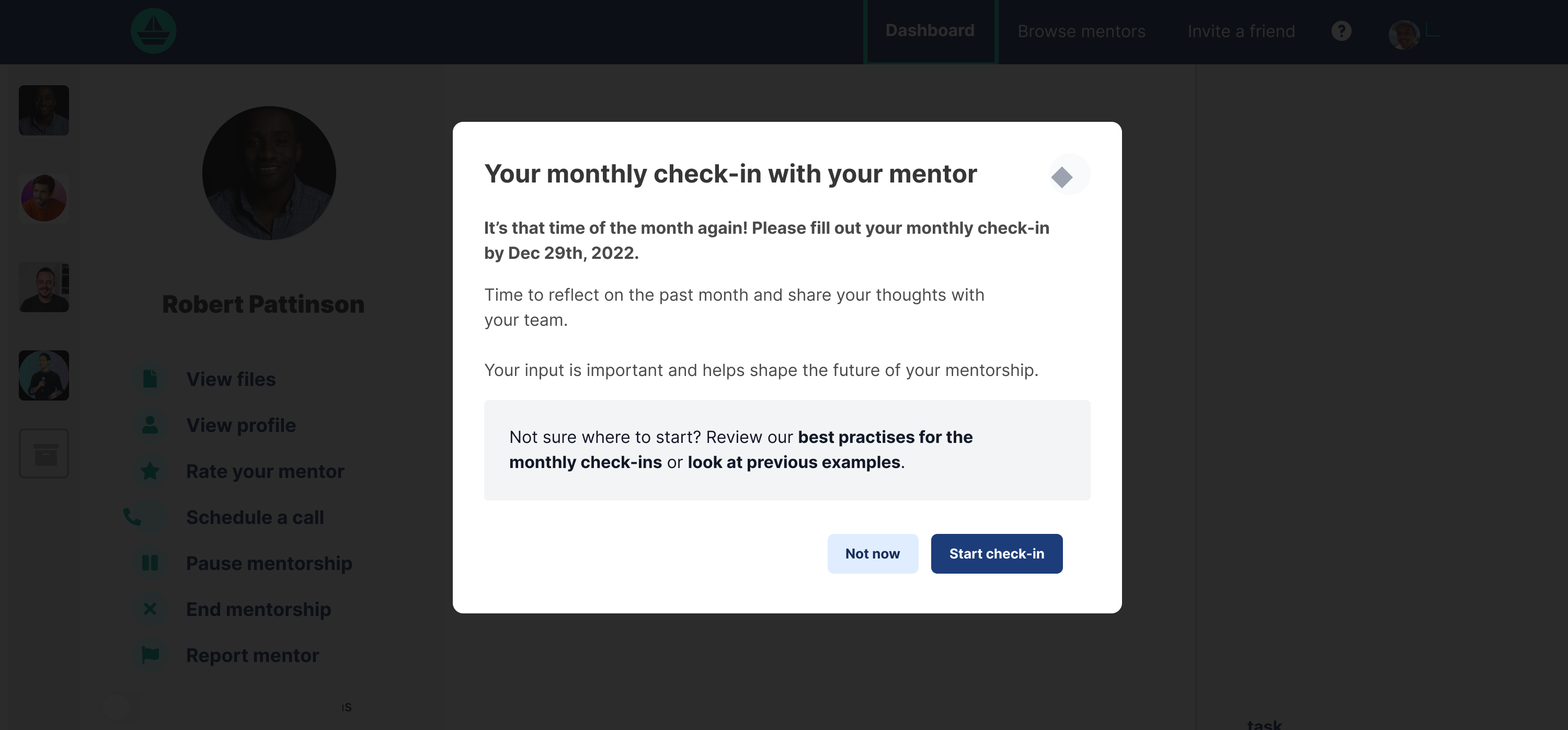 The secret superpower of people management
For HR

Mentorship is proven to increase retention times by 200% and increases representation of women and minorities in management by 2.5x

For engineering managers

Mentored engineers are five times more likely to be promoted and twice as likely to be promoted to a leadership role.

For business owners

Studies show that 87% of mentored employees report an increase in confidence and competence at work.

For product managers

MentorCruise sports one of the most diverse and beloved mentoring networks for product management.
Improve retention and efficiency
Start your journey and build a better team today. Getting started is easy and we're here for you along the way.
Request a Demo
Loved by leaders, ambitious teams and top managers
Gain more time to focus on the things that matter to you, help your team grow and improve efficiency, all on one platform.
I absolutely love how MentorCruise provides each member of our team with a mentor!

Xavi Ablaza

CEO at Hostari

I highly recommend it! Working with the MentorCruise teams platform helped us build a more profitable team and train up our staff.

Harry O'Connor

Managing Director at Voodoochilli

After less than three months, my team shared their perspective on how I have grown to become a better support system for them.
Supported by top leaders and industry experts
MentorCruise is one of the top mentoring platforms and networks, allowing you to match your team with expert leaders of the industry.
Dead-simple pricing that grows with you
The MentorCruise team hub comes at no additional cost, you only pay for mentors.
Increase in productivity
20%
Projected spending
$--/mo
Based on average platform spend
Projected savings
$--/year
All calculations assume $350/mo/mentee average spend. Smaller plans are available.
Frequently asked questions
Can't find the answer you're looking for? Just reach out for a personal demo.
We have a small/large team, can you accommodate us?

Definitely! Our teams offerings works if you're a team of two or an enterprise with teams of hundreds, no problem at all! The biggest companies we work with have beyond 1,000 employees, but we love to work with new startups as well!
What kind of mentors can we book?

MentorCruise offers mentorship of close to 700 vetted mentors at all times. For work with teams, we identify the top-ranking mentors on our platform, including the ones that are closed for new public spots. This means we can start small and scale up your mentor needs at any times. All mentors have extensive experience.
How are mentorships conducted?

Sessions: We offer a "session" model which are calls that can be booked regularly or as-needed. Usually there'd be a certain amount of pre-paid calls every month that your team can use and share.
Q&A: The Q&A model is a flat-fee subscription model where mentors are accessible via chat on-demand. The Q&A model is traditionally conducted on the platform chat or in shared communication channels (e.g. Slack Connect).
How can we try out MentorCruise?

We're an open platform, so feel free to get in touch for a pilot. If you want to get a first feel for MentorCruise mentorship, we invite you to book a mentor for yourself.
Every moment counts
Start your journey and level up your team today. Getting started is easy and we're here for you along the way.
Request a Demo