A lot of people tend to think they have a brilliant idea, carry out a quick research of competitors and they are on to design a prototype. After a while they launch the product, and it soon becomes apparent that something has gone wrong. The main reason usually is that product value hypothesis has not been validated.


Grey or unvalidated areas can appear at different levels: during product development, customer segment valuation, revenue estimation, and so on. The methods that will be discussed in this article are effective not only at the beginning of work on your product, but also at the subsequent stages of the development of large modules and features.
Business Model Canvas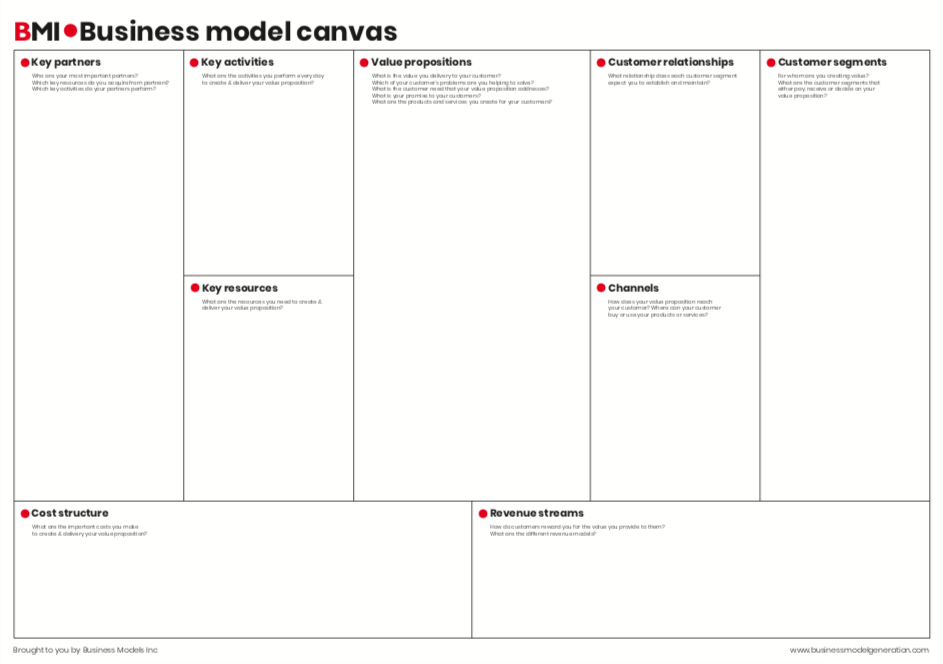 Reference: Business Models Inc.
Business Model Canvas is a framework that helps mature companies regularly analyse their market positions and develop future plans. This framework quickly gained the attention of a wide audience, but it is was not enough for start-up businesses in the early stages of product development. Thus, based on the Business Model Canvas, the Lean Canvas and Value Proposition Canvas were created. If you're a startup, I recommend starting with Lean Canvas.
Lean Canvas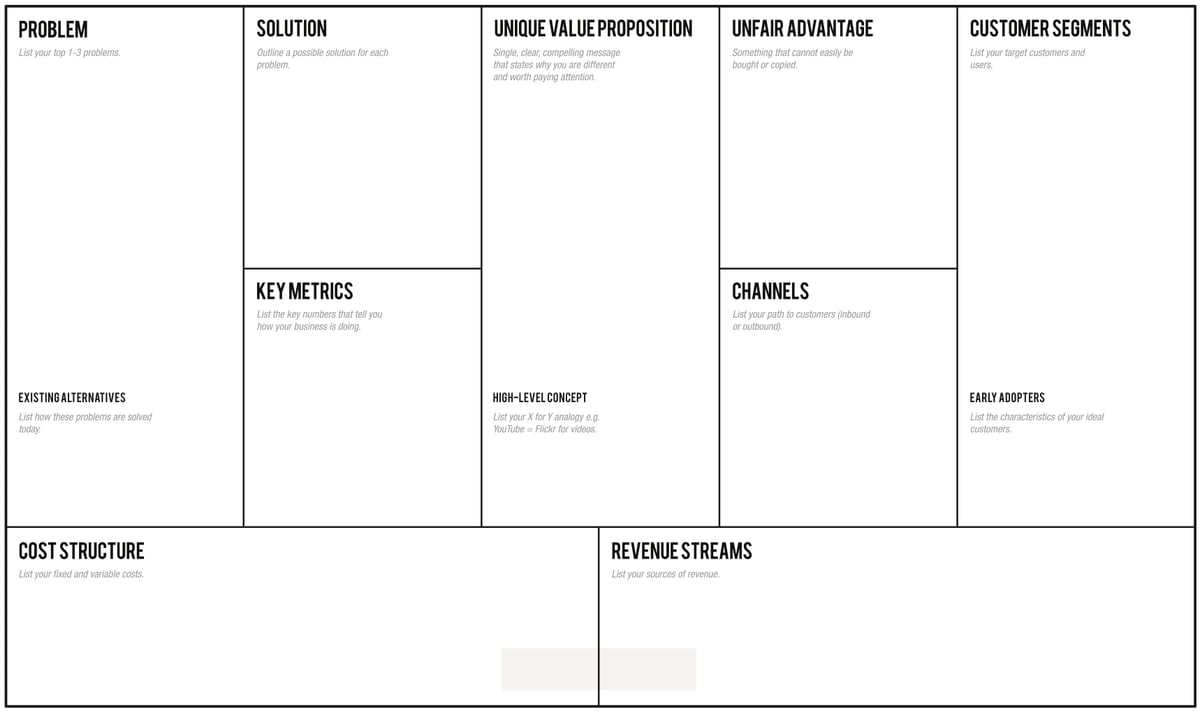 Reference: LeanStack.com
Lean Canvas focuses on the users and the problems the product intends to solve. Lean Canvas allows startups to analyse the strengths and weaknesses of their business model, as well as assess the market and minimize risks even before starting product development. This tool is useful in describing a value proposition and finding a competitive advantage that other companies don't have.
Lean Canvas is essentially a derivative of the Business Model Canvas, where the emphasis has shifted in favor of a deeper analysis of the product itself:
Key Partners → Problem
Key Activities → Solution
Customer Relationships → Unfair Advantage
Key Resources → Key Metrics
Applying the Lean Canvas


Let's take a closer look at Lean Canvas elements using Airbnb as an example. Let's imagine that the company is only at the beginning of their journey.
1. Customer Segments: the goal of this stage is to determine the target audience, whose problem the product should solve. It is the very moment when it is vitally important for creators to abstract from the belief that everyone needs their product.
For example, Airbnb provides its services to travellers (guests) and hosts. Moreover, these audiences can and should be segmented in more detail: depending on a frequency of travel, demography, social status, etc. 
2. Problems: these are user problems that the product must solve. Important note: if you are solving problems for several segments of the users, it is worth creating a canvas for each of them.
In the case of Airbnb, there will be at least two: one for guests and one for hosts. Examples of guests problems: expensive hotels, no possibility to cook, no availability during big events in big cities. Hosts problems might include: free space that they are not using, looking for additional income, etc. It is also worth pointing out alternative solutions that already exist on the market. In our case, this can be other accommodation booking services or simply staying at a friend's place.
3. Revenue Streams: how your product will generate revenue for each segment of users.
For example, Airbnb charges a service fee to both guests and hosts.
4. Solution: solutions to the problems that we identified earlier. It can be one solution for several problems at once, or, conversely, several solutions for one problem.
Airbnb offers a wide range of possibilities for renting a bed, room, entire apartment or a house, affordable prices and ratings of both guests and hosts.
5. Unique Value Proposition: uniqueness of your product that will attract the attention of users, as well as the main distinguishing features of similar solutions.
Airbnb is not only about booking a place at an affordable price, but also the ability to find a safe place anywhere in the world in one click. 
6. Channels: these are communication channels. Even the coolest product will fail if users don't know about it. Determine the best ways to communicate with your audience. In our case, this might be PR, reviews and word of mouth.
7. Key Metrics: define the key metrics by which you will measure the success of your business. You can start with the most basic ones and add others later. For Airbnb the metrics can be the number of trips booked, the number of stays available, retention of both hosts and guests.
8. Cost Structure: all fixed and variable costs should be indicated in this part - salaries, office rent, purchase of equipment, etc. You can compare them with what was previously indicated in the Revenue streams.
At Airbnb, this might be the cost of product development and marketing.
9. Unfair Advantage is what makes your product unique and makes it difficult for competitors to copy an idea: reputation, exclusive access to data, patents. You can postpone the completion of this section until later.
When Airbnb launched, its unfair advantage was one-click travel at low cost.
Remember that as a startup you are still testing hypotheses that may not always work. Lean Canvas can and should be revised every time new user feedback is received. It is always good to be guided by real facts, not your own assumptions.
Lean Canvas provides a holistic view of the business and is an effective tool for validating ideas for your product before you invest time and resources in it. Over the years, you can also return to what you previously described in Canvas and get inspired to generate new ideas.
Even though Lean Canvas has numerous advantages, it's worth noting that this approach only briefly describes the target audience. This is why it is a good idea to combine it with the Value Proposition Canvas.
Value Proposition Canvas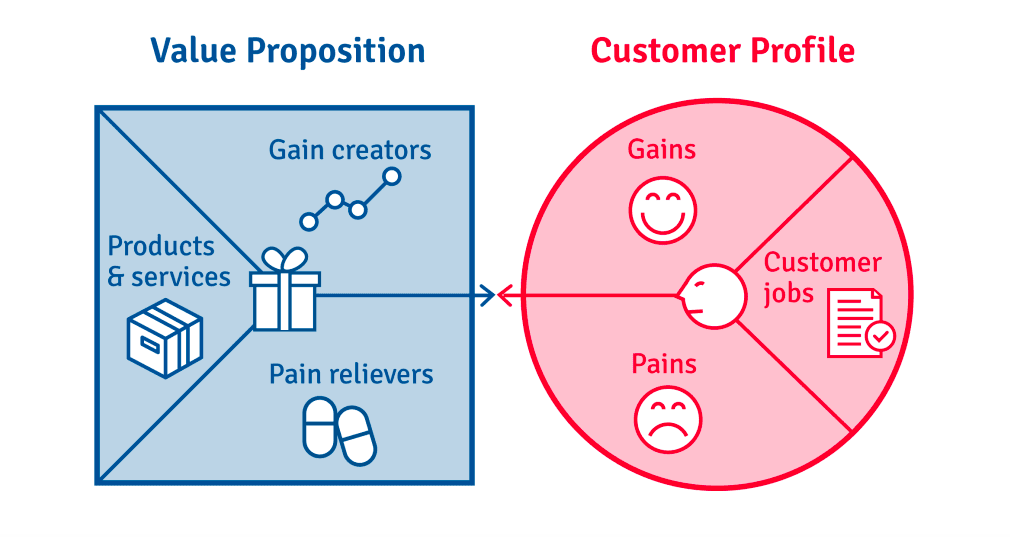 Reference: B2B International
The Value Proposition Canvas is a way to show context of your product through the lens of a specific user. It will help a startup understand what consumers want and where the product should go to meet their needs. While Lean Canvas is all about business in general, Value Proposition Canvas is all about understanding value for different user segments.
The Value Proposition Canvas is a collection of two of the nine dimensions that the Business Model Canvas is built on - Value Proposition and Customer Segments. As a rule, the Canvas should be filled from the right side - the Customer Profile. It defines the expectations and jobs of users, as well as the positive and negative experiences that they had in trying to do these jobs. It is important to note that this part is exclusively about users and their needs, without reference to the product itself.
In the case of Airbnb we will have a guest with their gains & pains and separately hosts with their own.
Applying the Value Proposition Canvas
Customer job(s): various tasks that users intend to solve. These can be functional, social, or emotional.
In the case of Airbnb, we would include: find a place to stay in a short time, pay for services in a fast and convenient way, read honest reviews before choosing the place to stay at.
Pains: negative experience that users have when trying to solve the problems we described above.
In our case, this is the lack of housing available in a certain city, issues with the host, problems with payment. Since the perception may differ from one user to another, it is important to list as many options as possible.
Gains: positive experience that the user gets by solving their problems. It is important to note that this is not the opposite experience to pains. There may be things that are not at all related to each other. The additional benefits and desires of the user fall into this category. For Airbnb, this is a reliable host, fast payment method, service availability at any time.
After the Customer profile is ready, you can proceed to the Value Proposition that will satisfy the desires described in the Customer profile. So now we will focus exclusively on the product: its features, functional advantages and benefits that can attract users.
Products & services: product or service value proposition that will accomplish the jobs described earlier in the Customer jobs section. In our case, this might me a web version of the product, and mobile app for both guests and hosts.
Pain relievers: how your products or services can minimize or eliminate problems.
For Airbnb it can be host rating, integration with reliable payment providers, suggesting options in the radius of x kilometres/miles from the selected city.
Gain creators: how the user can get additional benefits. In our case, it can be automatic payment by card with one click, or management of the entire process on one platform. This section is similar to the Unfair advantage of the Lean Canvas approach.
After filling in both sides of the Canvas, match them. You need to make sure that the Customer jobs described on the right are satisfied by the Value Proposition map on the left. Go through each item, it should have an equivalent on the other side. Modify Canvas if any pains and gains are left open. Also, I recommend using Lean Canvas and Value Proposition Canvas together. They complement each other perfectly: the first focuses on the business and its risks in general, and the second will help to understand the target audience and its needs in detail.
---
I hope the information was useful and inspired you a little to go ahead and create your own canvases today! If you are not creating new products, try experimenting with these tools to find effective business solutions within your company.
Powered by Froala Editor