Advisors are the bloodline of many modern startups. Not only do they often add fancy names to your team page, but they can help your business with their connections and network, help you work through issues, bring in their inputs, and open doors with partners and investors that would usually be closed.
That doesn't come from nothing, of course. Companies must prove their worth, show progress every week, and the traction an advisor expects for them to stay on board. That often also means that the advisor is compensated or has a stake in the company.
What Does a Startup Advisor Do?
Startup advisors are chosen and utilized on a varying range of topics. The most common startup advisors are professors, founders, and serial founders themselves, with deep expertise in a company's niche.
Apart from that, they may be growth advisors with deep expertise in marketing, sales, and growing products from nothing to millions of users. Growth is often the number one priority at startups and bringing on independence, and new ideas can work wonders.
Technical advisors are commonly seen in industries where deep technical expertise is required or founders need extra support to push through the challenges.
No matter the nature of the advisors, an advisory board is usually a formal group and often the first place that startup founders can go to talk through issues.
3 Ways a Startup Advisor Can Add Value to Your Startup
Advisors are valuable because they offer the proper assistance at the ideal time for your startup. Their specific skills can help your business scale and accomplish several goals. Below are some ways a business advisor for a startup can be valuable for you.
1. They Provide Skills You Lack
A startup advisor is one with the skills and knowledge that you require. Therefore, by seeking startup advising, you're compensating for your weakness. With the presence of an advisor, you can focus on your strengths.
2. They Secure Valuable Connections
A startup advisor usually has connections that a new company can benefit from. Therefore, when you connect with startup advisors, they provide immeasurable assistance that can open doors to potential partners and hires.
A business advisor for startups often helps them get an introduction and a return call from investors. Then, the rest depends on you.
3. They Meet Your Startup's Needs
Startup advisors might attend to several startups or spend countless hours analyzing issues and concerns weekly. However, you get access to their skills and talents when they're with you. Furthermore, they'll give you undivided attention and address your concerns when they're with you.
When Do You Need a Startup Advisor?
The best time to connect with startup advisors is when you're just hiring key staff. However, startup advising is also helpful when your company needs to build partnerships or ramp up sales.
You can tap into crucial partnerships and find potential employees by connecting with startup advisors. Another critical time to bring them in is when you need to tackle peculiar challenges. 
Additionally, consultants can help startups understand the ins and outs of their industries. Advisors fill the knowledge gap about the industry and also help gain credibility.
Advisors usually help startups unpack most of their issues, answer essential questions, and play devil's advocate. But, although they provide guidance, they ultimately give founders the space to make decisions.
The right startup advisor is invaluable for new companies in sectors requiring subject-matter expertise. An example is a tech company that needs a startup technical advisor with deep industry knowledge. Such a consultant can change an organization. 
Screen Your Startup Advisor Carefully
As you connect with startup advisors, avoid the temptation of giving equity away because you want to add high-profile names to your advisory board to impress potential customers and investors. Unfortunately, some high-profile names are pretty busy and inaccessible when you need them. In addition, several people don't do much work on the advisory board but still retain stock.
When exploring startup advising, vet the potential consultant like they are staff hires. This means conducting interviews, reference checks, and confirming that your advisor doesn't have a conflict of interest.
A conflict of interest is when your startup technical advisor advises a similar company in your industry. Although it is a massive exercise, it is crucial for finding the right fit.
Also, remember that startup needs are continually changing. Therefore, you can replace consultants as your priorities begin to change. It might be necessary to audit your advisory board annually to identify members who are not essential.
A top-notch consultant can help you with the process of removing someone from the advisory board. The best business advisor for startup knows the ideal time to step down.
How Do I Compensate a Startup Advisor?
Startup advisors don't work for free. For the value they provide, they are looking for a return.
Most commonly, advisors have an equity stake in the company and are paid $1,000 upwards, plus expenses, for each meeting to reimburse their time.
Some advisors will not take a meeting fee and rely on a more generous equity package, while others may prefer a monetary meeting and retainer fee.
The compensation and service plan is usually tightly set in an advisory agreement, like this one by the Founder Institute.
When they connect with startup advisors, founders should be cautious about the equity they award. This is because the consultant might own a considerable share of the company. It can become an issue in the future when you want to hire a high-profile executive.
What Your Startup Advisory Agreement Should Contain
Once you choose the ideal startup advisor, there's a need for a detailed agreement covering the equity compensation arrangement. Although your attorney can draft the contract, you can also use a template. Some crucial information that should feature in the startup advisory deal includes:
Confidentiality and non-disclosure provisions for all intellectual properties and proprietary information the consultant has access to
The duties and responsibilities of the startup advisor
The consultant compensation
The length of the agreement 
The duties of your startup advisor usually depend on the startup's nature. Sometimes, it's necessary to create benchmarks. For example, if you're seeking startup advice for improving sales leads, you could make it 100% performance-based.
How much time you should expect from your consultant varies by need. When you need quick answers to questions, access is crucial. Your startup advisor should also be available for short calls when necessary for a quick idea bounce. 
Where Can I Find a Startup Advisor?
So, you're sold on the idea of getting an advisor for your startup; where can you get one? Good advisors aren't sold on the street, so you need to go to the right places to find one.
1. Startup Networking Events
Be it meetups, demo days, or startup groups. If you want to make the right connections, startup network events are usually where investors and advisors are looking to hear your ideas.
If you work in a specific industry and visit those events, you will also benefit from finding people experienced and well-connected in those industries.
When it comes to signing up an advisor to your team, it's always good to show others what you can do. Participate in presentations and demo days or directly pick out who you want to talk with and give it your best.
2. Partners
It wouldn't be the first time that someone signed a business partner, customer, or supplier to come on board as an advisor or even an investor.
Exploring the business partners you are close with is a great way to get an introduction to advisors in your industry. Even better, there's no need to make things formal right away. Instead, you can start by asking a few questions, meeting once in a while to get some advice, before moving on to the next stage.
This is an approach we value and exercise at MentorCruise religiously. Just yesterday, I signed up for another session with a marketer, right here on the platform. In the past, I've booked sessions to push through scalability issues and gain new ideas in marketing. Talk about scratching our itch!
3. Cold Emailing Startup Advisors
An excellent cold email can open a ton of doors! Writing a good cold email is an art in itself, but if you master it, there's no limit to what you can achieve and who you can reach.
The great thing about this is that you can pick anyone in the world and see whether they can help you. The not-so-great thing is that great advisors get a ton of cold emails, and most of them land in the email spam folder right away. As someone receiving a fair share of cold emails myself, not many are getting the response you'd like.
Therefore, below are a few short tips to make your cold email feel less cold.
Do not, never, automate your cold emails. Instead, keep things personal and human.
Don't ask them to become an advisor or whether you will be able to send them a question – lead with your question and be direct.
Offer something in return. Support a project or cause that they are passionate about or give feedback on something they've written/built/talked about.
In short: be human and natural, don't ask for commitment or even a reply; just pay it forward and see whether it can lead to a relationship.
4. Online Communities
Especially nowadays, startup events and networking increasingly happen online. There are online communities where super-smart engineering students share the same space with 8-figure business owners. The possibilities are endless.
Even better – people in the right communities love to interact with others. So whereas with cold emailing, your biggest challenge is to even get a reply, in communities, you will find many people with the same mindset as you.
In many cases, what you will find in these places is peer-to-peer advisors: Folks in the trenches together, trying to help each other out. That's not something terrible, though! In many cases, you will find long-lasting and valuable contacts in these communities.
Our top picks for this are IndieHackers, MegaMaker and Startup School, but there are many others!
5. Mentorship Platforms
Mentorship platforms are popping up left and right, and indeed, they are one of the easiest ways to connect with an expert for advice.
Besides offering sessions and long-term mentorships with experts all around the tech industry, plenty of other players in the market can help you.
On one side, you have apps like GrowthMentor, helping you connect casually to growth and marketing experts that can help you get unstuck in a few sessions you can book through the platform.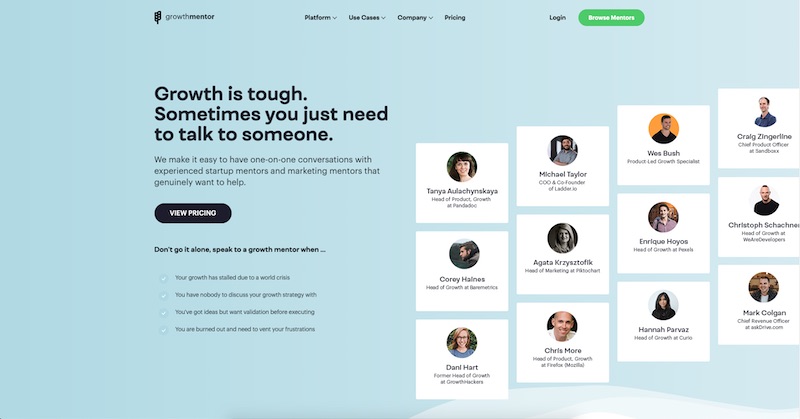 Then, you have programs like MentorPass that allow you to access a range of great advisors for as long as you need them and push through issues and problems in a few calls.
While not the cheapest option, it's probably the most comfortable and accessible way to connect with startup advisors in your industry.
6. Incubators and Accelerators
Finally, if you want to go the full way, you can get very close 1-to-1 mentorships and advisors if you join a renowned incubator program. For example, the well-known YCombinator and Techstars programs each give you a personal advisor when you join their program.
Of course, incubators and accelerators also come with the most baggage out of all of them. It's not uncommon for these programs to have rigid investing rules and extended presence programs and are usually bound to take a free equity stake, so make sure you know what you are getting into!
Three Tactics to Get the Most Out of Your Startup Advisors
It is pretty standard for founders to surround themselves with a group of consultants, including a trusted mentor. However, you'll notice as the company grows that you're no longer getting the most out of your advisors. This section will explore three ways to get the most out of your consultants.
1. Pick the Right Advisors for Your Startups
You can plot your advisors along a spectrum. For example, you might have a business consultant with incredible experience who finds it challenging to unpack their knowledge.
On the other hand, some consultants with less hands-on experience are pretty skilled at startup advising. These startup advisors know how to filter, prioritize and solve problems. Therefore, get an advisory board that blends both types of advisors.
Many brilliant and accomplished startup advisors look good on paper. However, you don't want consultants with conflicting styles. While blending different types of advisors, ensure that their style aligns and is ideal for your company.
2. Know When You Need Advising
If you're a founder, you'll need to make decisions quickly and effortlessly. It is usually at this point that you need startup advising. These are when an essential shift in perspective is crucial.
Experienced consultants know the ideal time to interrupt a founder's flow. Some of the best business advisors for startups will rephrase the questions to help you find the right answer. The job of a startup advisor is to act as a filter that sieves out bad decisions while helping you improve your confidence in your abilities.
3. Ignore the 80-20 Advising Rule
When you connect with startup consultants, you'll notice that they spend 80% of their time with companies focused on reducing friction. This includes logistics, advising founders on equity split, connecting with the right PR firm, recruiting key employees, etc.
Although friction reduction is crucial for a startup, that only leaves 20% for strategic guidance. To get the best out of your startup advising, you should look for people who pay as much attention to strategic guidance as friction reduction. 
Strategic guidance is crucial because it has the most impact on a company. Additionally, your startup advisor should be able to customize the advice to your company.
Find the Ideal Advisor for Your Business With MentorCruise
A startup advisor usually bridges the chasm between ambition and resources. When you connect with startup advisors, they help you see the bigger picture and offer a sharper focus on the details of a situation. Going through the early days of founding a business can be difficult alone; a startup advisor helps to open many doors.
However, finding the right advisor for your business might take some time because you want someone with experience and someone who understands your startup mission. If you need some help with your search, we recommend getting someone within the MentorCruise community. Contact MentorCruise today to discuss the right advisor for your startup.