Fear no more because this MentorCruise article aims to simplify your search. We'll provide a carefully curated selection of top-notch professional development tools that suit varied professional development needs and preferences.
Let's dive in!
What are professional development tools?
Professional development tools are resources, assessments, techniques, and software that organizations can use to help their employees understand their skills, aspirations, and potential. 
These tools guide individuals in their career growth by providing opportunities for learning, mentorship, and acquiring new skills.
If you're looking for the safest step to take, MentorCruise is a professional development tool that serves as a platform and community connecting professionals and entrepreneurs with exceptional mentors and coaches.
By working with top tech mentors, you can receive personalized guidance to unlock your full potential.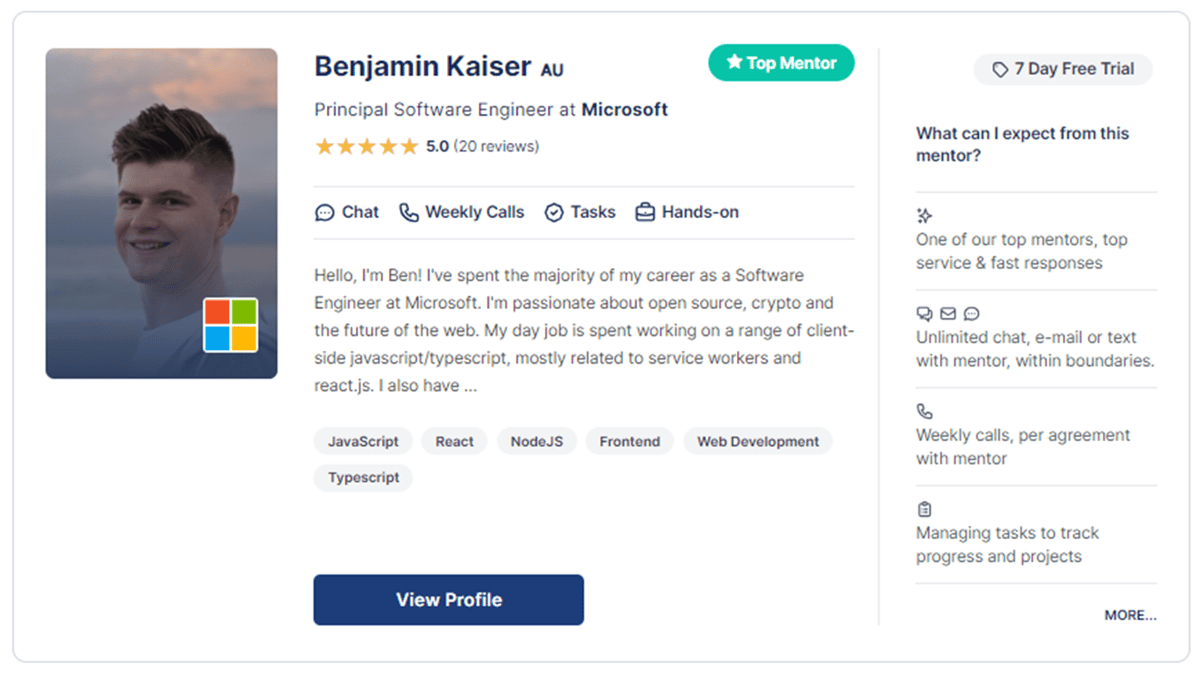 Why are professional development tools important?
Expands skill sets: Employers can use technology to facilitate employee learning, offering online platforms and workplace training to enhance skills and professional flexibility.
Efficiency improvement: Professional development leads to improved productivity, quality of work, and organizational performance.
Makes succession planning easier: Professional development tools nurture leadership skills and minimize knowledge gaps caused by turnover.
Enhanced employer branding: Prioritizing professional development enhances company reputation, attracting top talent for career advancement.
Factors to consider when choosing professional development tools
Personalized learning paths: It's best to provide customized resources and activities aligned with employees' individual goals for personalized learning experiences.
One of the living evidence is the story of Joris as it highlights the importance of personalized learning paths in mentoring services. Having a mentor to review progress, prioritize topics, and provide support with landing a challenging job in the blockchain space helped Joris stay focused and motivated. The beauty of mentorship is that it is entirely personal. Mentors can plan out a roadmap based on all circumstances, providing customized resources and activities aligned with employees' goals for personalized learning experiences. 
Ease of use: Consider user-friendly professional development tools that are easy to navigate and regularly updated for maximum benefit to individuals and organizations.
Feedback mechanisms: Gather valuable insights by enabling feedback at the end of courses or training programs to make necessary improvements.
The case study of Ryan Wilson's transition from a professional basketball player to a career in hacking and cybersecurity exemplifies the importance of feedback mechanisms in mentoring services. By connecting with a mentor, Ryan was able to receive expert feedback, set up a strategy to lead him toward the next step in his career and make informed decisions about his career progression. The mentorship provided Ryan with a personalized roadmap, enabling him to focus on long-term success and receive valuable insights to grow and develop in his new field. 
Employee analytics: Utilize updated technology to collect and analyze data from multiple sources, providing a user-friendly dashboard for both management and employees to access and utilize the information to identify areas of improvement.
Career pathing: Enable career progression mapping based on current skills, interests, and talent opportunities. Motivate employees and support their career growth with tools like the 70-20-10 model, social learning, and peer-to-peer learning.
Some evidence of the benefits of career pathing is the story of Kyle's mentorship journey. By connecting with a mentor, Kyle was able to supplement his formal education with industry experience, receive expert feedback, and set up a strategy to lead him toward the next step in his career. The mentorship provided Kyle with a personalized roadmap, enabling him to make informed decisions about his career progression and to focus on long-term success. 
Best professional development tools
1. MentorCruise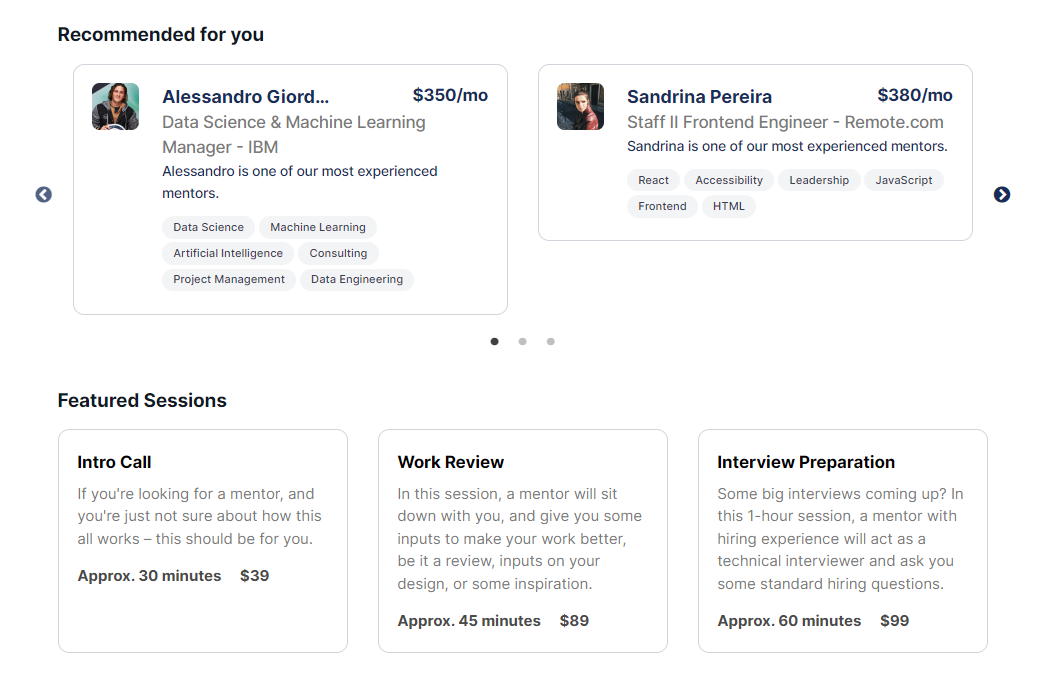 MentorCruise is a dynamic platform and vibrant community that facilitates meaningful connections between professionals and exceptional mentors and coaches. You can collaborate with top-tier tech mentors and unlock personalized guidance to unleash your full potential. Benefit from ongoing sessions and receive expert advice tailored to your needs, all at an affordable monthly rate.
Key Features
Personalized mentorship: Get paired with a mentor who matches your career interests and needs. Each mentoring relationship is unique and catered to your specific goals.
Wide range of experts: Access to a diverse network of over 300 mentors from various industries and backgrounds.
Feedback and evaluation: Receive regular feedback and evaluation from your mentor to help guide your development journey.
Protected payments: The platform ensures all payments are secure and provides a money-back guarantee if you're not satisfied with the service.
Pricing
Standard Plans
Plans under $100/month: Fee rate is higher than 20%
Plans from $100 to $499/month: Fee rate is 20%
Plans over $500/month: Fee is capped at 10% or $100, whichever is lower
Pro Plans
Plans under $500: Fee is capped at $50
Plans over $500: Fee is capped at 10% or $100, whichever is lower
Sessions
One-off sessions: Flat fee between $9 and $29.
Custom sessions: Flat 10% fee
Custom Plans
Fee structure follows standard plans: 20% for lower-priced plans and 10% for higher-priced plans, up to a cap of $100
Pros and Cons
Pros:
Access to experienced specialists for guidance and learning
Quick achievement of goals
Opportunity to learn the latest tech or prepare for interviews
Cons:
Can encounter mentor cancellation due to lack of time (but you will be reassigned)
2. Coach.me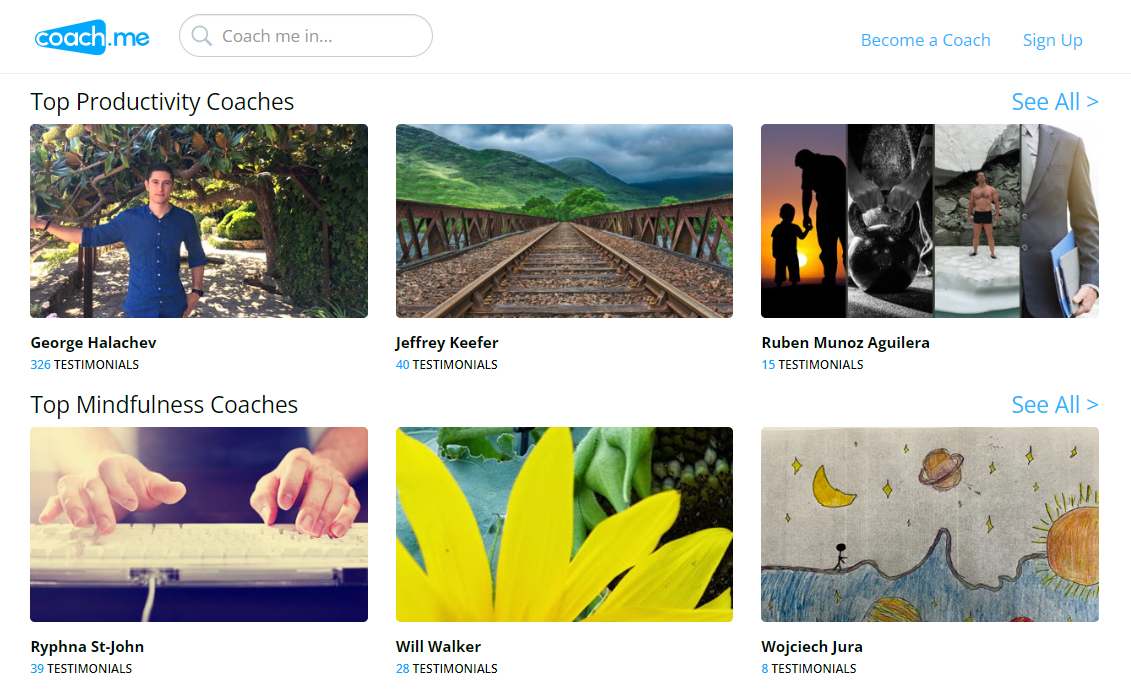 Coach.me is a personalized coaching service aiming to help individuals achieve their goals in various fields.
Key Features
Goal tracking: Coach.me offers a robust goal-tracking system that allows you to set, monitor, and achieve your personal and professional objectives effectively.
Expert guidance: A wide range of experienced coaches across various fields are available to provide personalized advice and strategies to help you achieve your goals.
Feedback and review system: Regular feedback from coaches and a user review system let you monitor your progress and ensure the effectiveness of the coaching services provided.
Pricing
Coach.me offers different pricing based on the coaching service chosen. Digital Coaching is priced at $19.99/week with daily check-ins, Leadership Coaching is priced at $249/month with weekly video calls, and Habit Coaching is priced at $199/month for goal-setting. 
Pros and Cons
Pros:
Easy-to-use app interface
Free to download
Coach testimonials available on their profiles
Cons:
Difficulty in reaching customer support with no contact details available
Lack of accountability for coaches and disappearance of coaching conversations
3. BetterUp
With a focus on whole-person behavior change, BetterUp's Human Transformation Platform integrates seamlessly into your workflow. It aims to help you drive organizational performance which impact key business outcomes.
Key Features
Personalized coaching: Choose from a variety of certified coaches with unique specializations.
AI learning technology: Tailored development plans based on your strengths, weaknesses, and aspirations.
Data-driven insights: Detailed metrics and reports to track progress and identify growth areas.
Pricing
BetterUp provides personalized pricing based on individual or team requirements. You'll need to request a quote. 
Pros and Cons
Pros:
Intuitive and motivating presentation of resources
Action plans created at the end of each session
Track progress
Cons:
Concerns about confidentiality and privacy during coaching calls
Inadequate customer support
4. Bravely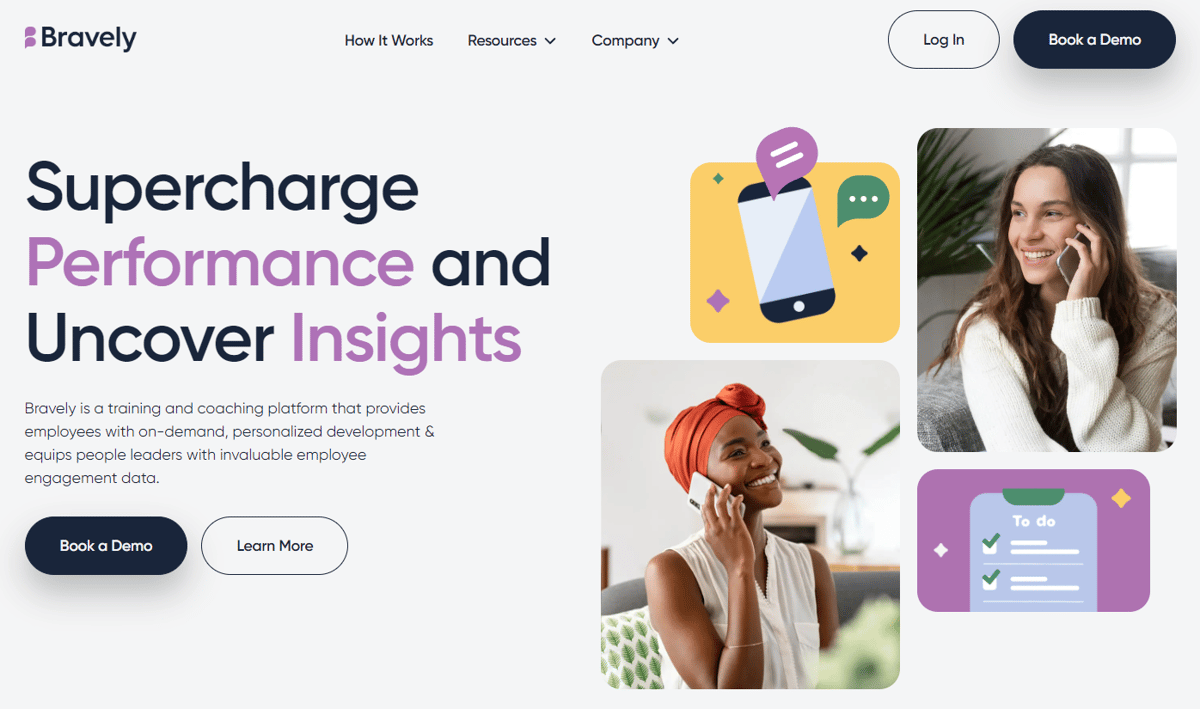 Bravely is a professional coaching platform that provides confidential and personalized support to employees across various organizations.
Key Features
Accessibility and flexibility: Global platform, available 24/7, accommodating employees in different time zones and schedules.
Diverse coaching pool: Network of diverse coaches to meet unique needs and experiences of employees.
Confidentiality: Prioritizes privacy in coaching sessions, ensuring trust and safety.
Pricing
Bravely does not have a publicly available standard pricing model because their services are tailored to individual organizations' needs.
Pros and Cons
Pros:
Useful for learning and career development conversations
Great for training new employees and guiding them through development processes
Privacy is prioritized
Cons:
Difficult to cancel a session
UI could be improved
Need to add features for automated assessment of employee answers
5. iSpring Learn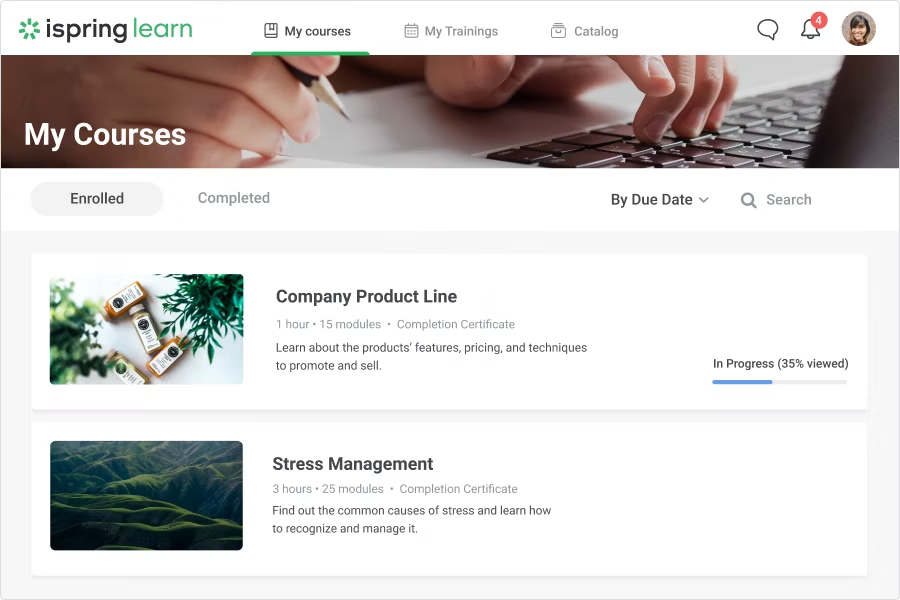 iSpring Learn offers a complete platform for creating, managing, and tracking various learning activities, including online courses, assessments, webinars, and meetings.
Key Features
Content authoring: Create interactive courses quickly with iSpring Learn's powerful authoring tools.
Learning path: Structure courses into a logical progression for effective training and learning.
Mobile learning: Learn on the go with iSpring Learn's free mobile app for iOS and Android.
Pricing
iSpring Learn has flexible pricing options to fit different needs. These include a 14-day free trial. 
Pricing per active user start from $3.66/month. Prices may change, so it's best to visit the official website for the latest info.
Pros and Cons
Pros:
Conveniently learn on-the-go with the iOS and Android apps
Cost-effective options for organizations of all sizes
Interactive learning
Cons:
May not meet the high customization needs of some organizations
Need to improve tracking and evaluation of learning progression
6. Docebo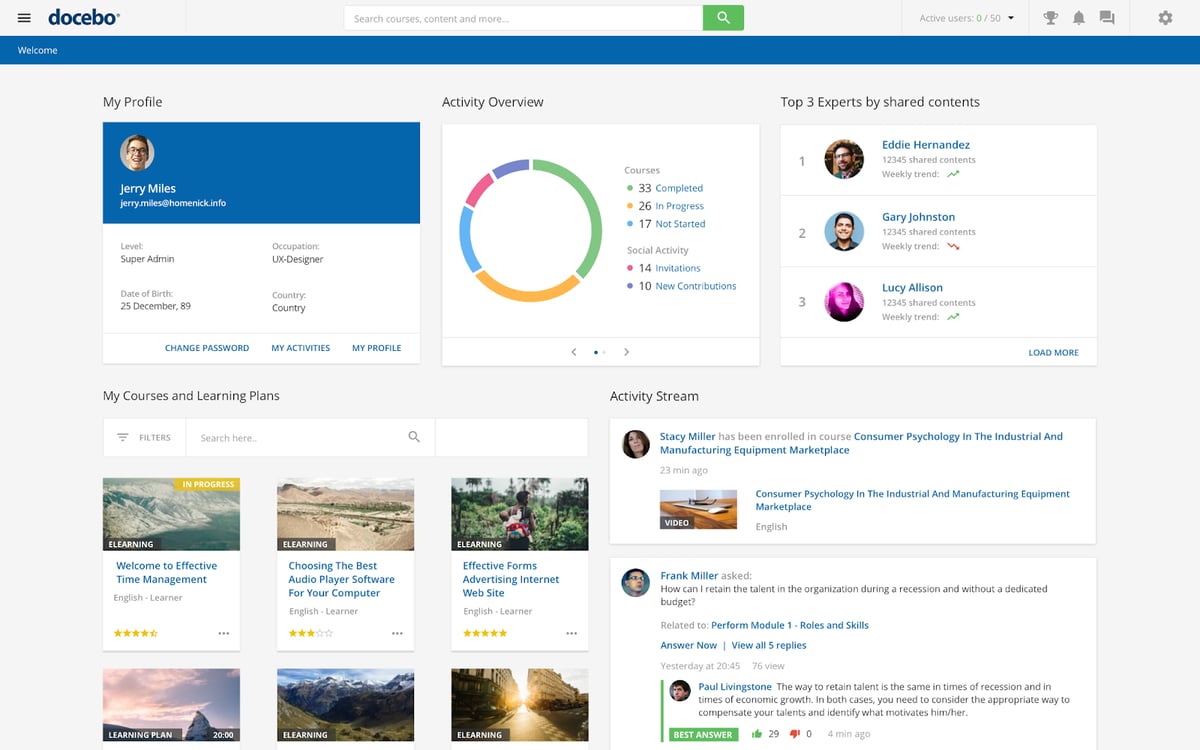 Docebo is a sophisticated Learning Management System (LMS) designed to increase user engagement and productivity through an AI-powered learning platform.
Key Features
AI-powered learning: Personalized learning experiences with AI technology.
Gamification: Drive engagement and competition with gamification elements.
Mobile learning: Learn anytime, anywhere with Docebo's mobile app for iOS and Android.
Pricing
Docebo offers three plans: Growth ($0.60/user/month from 300 users), Enterprise, and Premium. The latter two are customizable for large businesses. Check the website for current pricing info.
Pros and Cons
Pros:
Interesting gamification elements
Mobile learning is supported
Easily track progress
Cons:
The pricing structure can be complex and may not suit small businesses or start-ups
Advanced features may require a steep learning curve for ultimate utilization
7. Valamis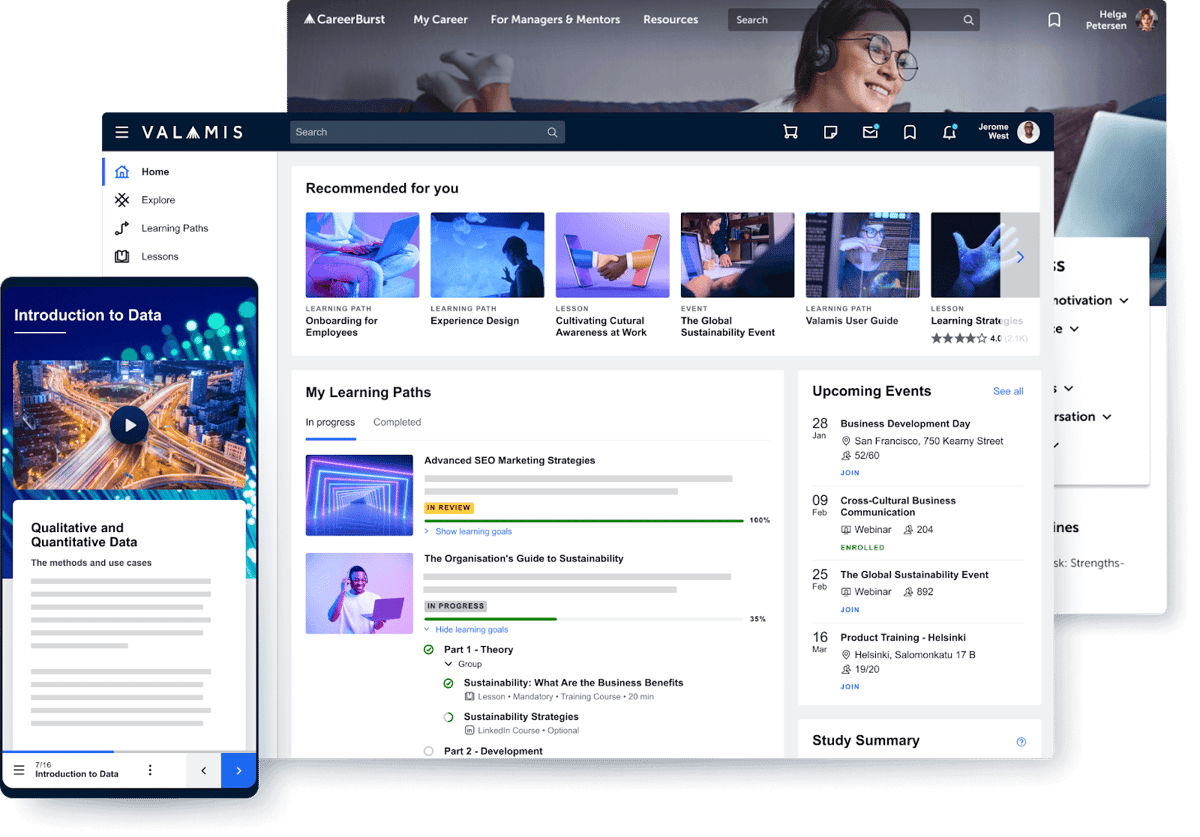 Valamis is an advanced Learning Experience Platform (LXP) designed to support companies in their digital transformation and workforce development.
Key Features
Personalized learning paths: Offers flexible learning paths for learners to track their progress. Gamification elements also allow users to receive awards while building skills.  
Advanced analytics: Valamis offers comprehensive analytics to measure and enhance training program effectiveness.
Compliance management: Tools to effectively manage and track compliance training, minimizing non-compliance risk.
Pricing
Pricing for the Basic Plan is determined by organization size and needs, whereas the Enterprise Plan offers a customized pricing model.
Pros and Cons
Pros:
Personalized learning paths enhance learner engagement
Strong content creation tools allow for customized and targeted lessons
Learners can earn rewards
Cons:
A lack of published pricing can make budget planning challenging
Smaller organizations might find the platform's extensive feature set overwhelming
Ready to kick-start your professional development?
Selecting the right professional development tool depends on your organization's needs, size, and resources. Each platform has strengths and potential drawbacks, so clearly identify your requirements before choosing.
Reliable platforms like MentorCruise offer personalized mentoring programs to help professionals thrive. We guarantee that our qualified mentors can help your organization effectively bolster professional development, promoting continuous learning and skill enhancement.
Start a free trial today and experience the benefits for yourself!